Last Updated On 22 June,2017 09:20 pm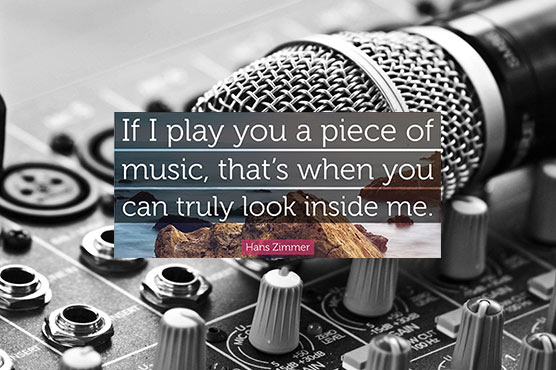 Here are ten themes and singles that are destined for eternity
(By Abdullah Ejaz) – Let us take a couple of moments to just sit back, relax and contemplate the perpetual influence of music in our daily lives on occasion of World Music Day today.
With days turning to months and months to years and years to irreversible aging, our lives are influenced by music in the most subtle as well as loud ways that we can imagine.
Music and arts, all of us would agree, drive a big chunk of our lives and on this World Music Day we humbly give back to the international community, the love, it has given us over the years.
Here are ten themes and singles that are destined for eternity:
---
(List-formatting is just a presentation, for those who rate art have sinned.)
Top Gun, the maverick that lives on
It is the best selling track of 1986 and remains one of the best selling till date. The album that was released in 1986 has since been remodeled and released twice.
Label: Columbia
Release date: 1986
Ballers, theme song of an HBO series
Backed by Mark Wahlberg as one of the executive producers, 'Ballers' starring Dwayne Johnson has many grooving to its track.
Breaking Bad: Music of the meth
Much like the telly series, its theme had become an instant sensation.
James Bond, too big a theme for a couple of movies. Had to make dozens
The theme has been a part of the James Bond franchise since 1962 production of Eon Productions, 'Dr No'
Game of Thrones, it had to be listed here
---
Let's go cliché because music will always be spellbinding
F.R.I.E.N.D.S track
---
Gladiator, cult defined
Indispensable addition to the world of movies, a theme from Harry Potter diaries
From days gone to days to come, Braveheart it is
---
For those who are to diss this compilation for incorporating content of western production houses and ignoring other industries, you made a hasty judgment.
Oscar-winning 'The Salesman'
---
'The Salesman' by Iranian Asghar Farhadi won the Oscar this year.
Trivia: Farhadi refused to attend the night as a protest against Trump's travel ban. A woman colleague in attendance at the Oscars read out Farhadi's thankyou note.
*The Iranian theme is a symbolic addition here, for diversity and acknowldgement of the musicians across the world, regardless of the lines drawn over geography and nature. Thankyou for adding to our lives in ways that you have.