Last Updated On 14 June,2017 08:23 pm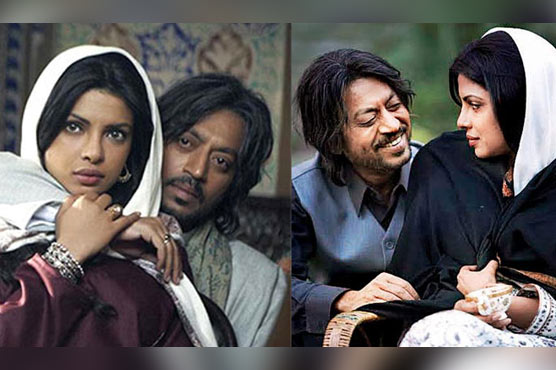 Gustakhiyan is based on the love story of literature giants, Sahir Ludhianvi and Amrita Pritam
(Web Desk) – Bollywood artistes Irrfan Khan and Priyanka Chopra have been finalised as the leading cast of Sahir Ludhianvi's biopic Gustakhiyan.
In the epic real-life romantic story of the two literary giants of this region, Irrfan Khan will play the role of Abdul Hayee, pen name of Sahir Ludhianvi. The renowned Bollywood writer had won two Filmfare awards for the Best Lyricist for Taj Mahal (1963) and Kabhie Kabhie (1976). Moreover, Priyanka Chopra will play opposite Irrfan Khan as his beloved Amrita Pritam, who is regarded as the first prominent woman Punjabi poet, novelist, and essayist. She was born in Pakistan, but spent most of her life working on the Punjabi literature in India after 1947 independence.
The film will feature a real-life love story of the two giants of Indian literature. Indian sources discarded the recent claims saying Irrfan Khan was unable to give dates to the movie, adding that he was the primary consideration to showcase the role of Ludhianvi from the very start. Gustakhiyan will be produced by Sanjay Leela Bhansali, who is currently working on his upcoming project Padmavati.
Reports also said that Bhansali had initially considered Deepika Padukone for Amrita Pritam's role but she was later pulled out in view of Priyanka Chopra's appearance and personality traits. Jasmeet Reen will direct the love tale, despite speculations claiming Bhansali to be the director as well.