Indian police arrest Hindu gang over riot death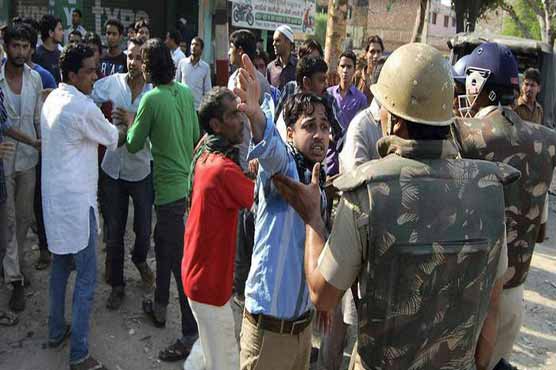 Clashes broke out in Pune at the weekend after distorted pictures appeared on Facebook.
MUMBAI (AFP) - Indian police said Thursday they had arrested 13 members of a radical Hindu group after a Muslim man was beaten to death in a city suburb during an outbreak of rioting.
IT manager Shaikh Mohasin Sadiq, 28, was on a side street in the western city of Pune on his way to have dinner when he was set upon by the men on Monday night, Deputy Commissioner of Police Manoj Patil told AFP.
"He was beaten with rods and wooden sticks," he said.
Patil said the accused were members of the Hindu Rashtra Sena, a group he described as "radical in their thinking", and face charges of murder, attempted murder and rioting. All are men aged between 19 and 24.
Clashes broke out in Pune at the weekend after "distorted" pictures appeared on Facebook of a 17th century Indian warrior king and Bal Thackeray, the divisive late leader of Shiv Sena, a hardline local Hindu nationalist party, Patil said.
Shiv Sena is an ally of the Bharatiya Janata Party which swept to victory in recent general elections under Narendra Modi, India s new prime minister.
Police are investigating the posting of the pictures, which have since been removed from the social media site, but Patil described Sadiq as an "innocent person" caught up in the clashes.
Seven of those accused of his murder appeared in court on Wednesday and were remanded in custody until June 9. The rest were due in court on Thursday.
Late in 2012, Indian police arrested two young women for questioning on Facebook the total shutdown of Mumbai after the death of Thackeray amid fears of violence by his supporters.
The case was dropped after an outcry over their arrests, which led the government to suspend two senior police officers and transfer a judge.