Canada in massive manhunt for cop killer
Last Updated On 06 June,2014 About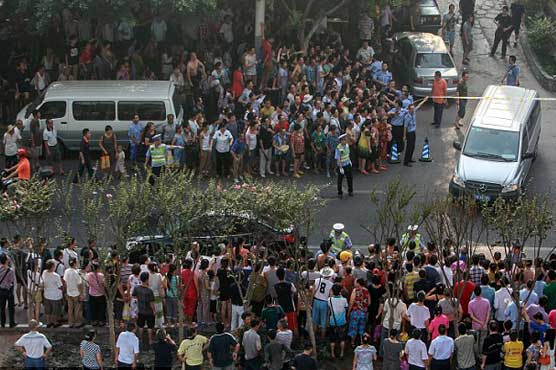 The Royal Canadian Mounted Police told residents to stay inside and barricade their doors.
MONTREAL (AFP) - Scores of Canadian police were scouring the woods in the eastern province of New Brunswick early on Thursday, hunting for a man believed to have shot dead three officers and wounded two others in a brazen attack.
Residents were told to lock themselves up inside their homes in Moncton, the province s largest city as police searched for the alleged shooter, 24-year-old Justin Bourque, who was described as armed and dangerous.
"Stay home, stay safe. If you cannot get home, seek out a friend or family and remain there until you are advised otherwise," Moncton Mayor LeBlanc said.
The Royal Canadian Mounted Police told residents to stay inside and barricade their doors.
The RCMP police released a photo of the suspect dressed in military fatigues and carrying two firearms. He was said to be hiding in a wooded area north of Moncton.
It was those guns that he confronted police with in a street in Moncton Wednesday night around 7:30 pm (0130 GMT), killing three officers and wounding two.
The wounded cops were in stable condition, said Dhany Charest, a surgeon in the city of 70,000.
Initially, a third person was reported wounded but it later turned out this was in an unrelated incident.
On what appears to be his Facebook page, the suspect posted extracts from a song by an American heavy metal band, Megadeath just before the shooting.
He took letters from the refrain of the song and spelled out the letters of the word freedom and ultimately wrote, "this spells out FREEDOM, it means nothing to me."
The exact circumstances of the shooting were not clear. Local media said the shooter opened fire in cold blood in a residential area of the city.
Damien Theriault, spokesman for the Royal Canadian Mounted Police, said authorities wanted to end the manhunt as soon as possible. He gave no details on the shooting spree.
On Wednesday night TV footage showed police with guns in their hands and taking refuge behind cars as they encircled a wooded area where the suspect may have taken refuge.
Canada prides itself on being largely free of the gun violence that regularly plagues cities in the neighboring United States.
Provincial premier David Alward said, "I was shocked and saddened to learn of tonight s tragic situation in Moncton."
"On behalf of all New Brunswickers, I would like to extend my thoughts and prayers to those affected," he added.

---
---
Advertisement