Last Updated On 14 June,2017 10:37 pm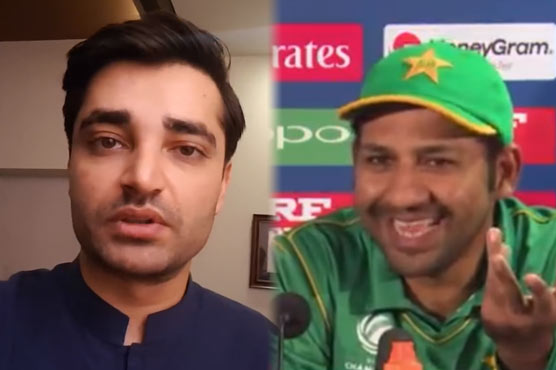 The actor said in a video message that people should get over the colonial mindset and complex
(Web Desk) – Widely noticed and mocked for his 'panic' to speak English, Pakistan cricket team skipper Sarfraz Ahmed has been backed by the popular celebrity Hamza Ali Abbasi who said in his video message to judge the cricketer on his skills in the game and not on the inability to speak fluent English.
---
---
The captain had come under spotlight in the post-match presser after the thrilling victory over Sri Lanka in the all-important quarter-final. Before the media talk began, Sarfraz asked whether there were all English reporters in the room. His words 'Saray English Kay Hain' caught the eye of social media where he was mocked and it also revived the history of stumbling English speaking of previous players and captains produced by the country.
People on Twitter and Facebook noticed how the wicket-keeper batsman remained reluctant against English reporters. They also taunted his remarks on the post-match press conference in South Africa match when Sarfraz said, "Actually, we did nothing as it was raining the whole day," when asked about how they outperformed the Proteas while failed miserably against arch-rivals India.
---
---
Hamza Ali Abbasi came out to defend skipper Sarfraz and expressed disappointment at those who mock and tease Pakistani players for their lack of English speaking ability. "English is not his mother tongue and while he is being ridiculed for it, it is extremely heart-breaking," he stated.
While bashing the people for their bad reactions, he denounced the 'post-colonial slave mentality' and compared it with the inferiority complex amongst people. He encouraged Sarfraz to comfortably speak in Urdu with a translator. He gave the example of Japanese, Chinese and Russian people who avoid speaking the foreign language and feel proud to convey their message in the mother tongue.
---
Watch Hamza Ali Abbasi reply to those mocking Sarfraz over his English:
---
Even people from India supported Sarfraz when he was being insulted for his English. When an Indian page on Facebook highlighted the issue, Indians had several positive things to say about the Pakistan batsman.
This Indian page tried to troll Sarfraz Ahmed for his English, but #Indian fans came up in support of the Pakistani skipper. #ENGvPAK pic.twitter.com/bibGlKPOKA

— azhar khan (@Azharkh4) June 14, 2017
---