A picture and its story: On the road from Donetsk, evacuation ends in heartbreak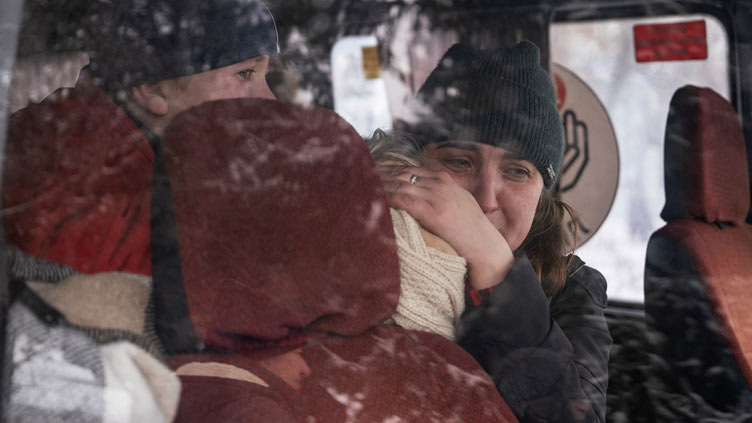 World
Russia invaded Ukraine on Feb 24, 2022.
CHASIV YAR (Reuters) - Until a couple of weeks ago, things were quiet in the town of Chasiv Yar, despite being just a few kilometres from one of the fiercest frontlines of the war in eastern Ukraine.
Then an explosive projectile crashed into the Akusov family's yard, destroying an outdoor toilet and damaging the roof and windows of their home. The family decided it was time to leave.
But there was more tragedy ahead: Raissa Akusova, 75-year-old grandmother and matriarch of the family, died on the road. Her loved ones think she suffered a heart attack.
A Reuters team including photographer Marko Djurica had accompanied volunteers from a charity to Chasiv Yar that day. The charity workers carried with them addresses of residents who sought help evacuating as Russian troops neared.
When they arrived outside the family's home, Djurica said it was clear that Akusova was feeling very unwell. She leaned on her son-in-law's arm and had to take rests as she made her way slowly to the charity's waiting minibus.
"While she was walking, the grenades were falling," Djurica said. "You could hear outgoing and incoming artillery near us in the area. It was bad. Somehow she managed to get into the bus."
Chasiv Yar has been shelled heavily in recent days as Russian troops work to cut off routes to the nearby city of Bakhmut, almost a year on from their Feb. 24, 2022, invasion.
The minibus set off to take Akusova and others to an evacuation centre in the city of Dnipro. As her condition worsened, charity workers first searched for a doctor in Chasiv Yar. They then raced southwest to a hospital in the city of Kostiantynivka, where she was pronounced dead.
"They took her out of the minibus and they put her in the morgue," Djurica said. "The grandson was crying, her daughter was crying. It was emotional."
With her body in the care of the doctors in Kostiantynivka, the minibus then continued on its journey to Dnipro.