Ukraine one year on: the specter of nuclear war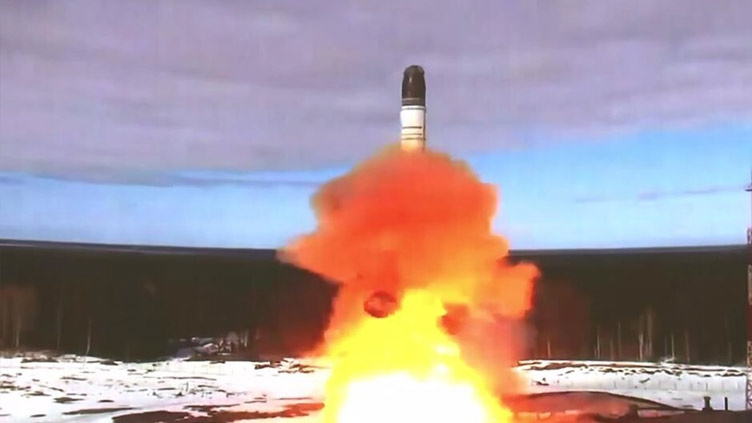 World
Within days of Moscow's attack, Putin ordered the mobilization of Russian nuclear forces.
WASHINGTON (AFP) – For decades, children in the United States and the Soviet Union were drilled on what to do in a nuclear war. One year after Russia's invasion of Ukraine, could the danger have returned for new generations?
Within days of Moscow's attack, President Vladimir Putin ordered the mobilization of Russian nuclear forces, stunning the world.
Washington bashed such talk as "dangerous" and "irresponsible," and warned Moscow of "catastrophic consequences."
But Moscow kept up its threats, giving rise to deep worries that Putin was willing to start a nuclear exchange that could trigger an all-out apocalypse.
"We have not seen a public announcement from the Russians regarding a heightened nuclear alert status since the 1960s," said Avril Haines, US Director of National Intelligence.
And President Joe Biden warned that the world risked nuclear destruction for the first time since the Cuban Missile Crisis of 1962.
Seconds to midnight

Russian officials sought to clarify their stance, saying the country would only use nuclear weapons if it were facing an "existential threat."
But in September, when Putin declared the annexation of four Ukraine regions, the question was: would attacking them amount to an "existential threat" to Russia?
Though there was no sign of Russian nuclear mobilization, in January, the Bulletin of the Atomic Scientists moved their "Doomsday Clock" forward to just 90 seconds to midnight, signaling their view that the destruction of humanity was closer than ever.
"Russia's thinly veiled threats to use nuclear weapons remind the world that escalation of the conflict -- by accident, intention, or miscalculation -- is a terrible risk," the Bulletin said.
Arms control failing

The threat has returned not only because Russia invaded Ukraine. The US-USSR arms control pacts that eased the tensions of the Cold War are dead or broken.
The crucial 1972 Anti-Ballistic Missile Treaty collapsed in 2002.
In 2019 the United States pulled out of the INF treaty, which limited medium-range nuclear-capable missiles, saying Russia was violating its commitments.
And over the past year the 2011 New Start Treaty between the United States and Russia limiting nuclear warheads has frayed, Washington again accusing Moscow of not complying.
- Nukes 'don't give you security'-
But ironically, said Pavel Podvig, a senior researcher at the UN Institute for Disarmament Research, Russia's threats may have made the world a little safer, by reminding new generations of the unthinkable danger of atomic armageddon.
For one, he said, Russia may have calculated that it could start and quickly finish the war on Ukraine because it had nuclear weapons.
Instead, it collided with nuclear-armed NATO's support for Ukraine.
The conflict may even have helped make the case that nuclear weapons are "obsolete", said Podvig, as Russia may have found that "they don't give you security."
Global pushback

Second, Podvig said, is the pushback from world leaders, including Russia's friends India and China, over Moscow's nuclear talk, helping to bolster a sense that nuclear threats are taboo.
In September Indian Prime Minister Narendra Modi raised concerns about the nuclear talk with Putin.
In November the G20 declared at the end of its summit in Bali -- where Russia took part -- that the use or threat of use of nuclear weapons is "inadmissible."
Even more important, said Podvig, was the joint statement by Biden and Chinese leader Xi Jinping at the Bali venue.
Biden and Xi agreed "that a nuclear war should never be fought and can never be won and underscored their opposition to the use or threat of use of nuclear weapons in Ukraine," their statement said.
Washington has toned down its own talk, refraining from repeating its warning of "catastrophic consequences" for nuclear use.
"It turns out that people don't really like when states talk like that," said Podvig, adding people are again "acutely clear of the danger of a nuclear war."