Russia violating principles of child protection in Ukraine: UN refugee chief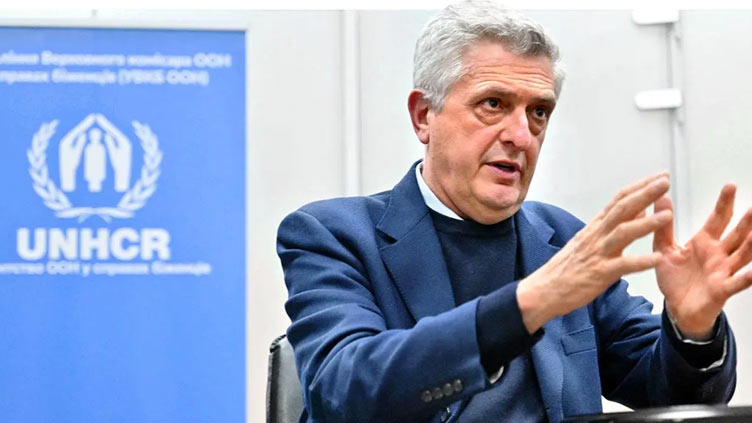 World
Grandi highlighted two potential future trends in Ukraine's displacement crisis.
KYIV (Reuters) - Russia is violating the "fundamental principles of child protection" in wartime by giving Ukrainian children Russian passports and putting them up for adoption, the U.N.'s refugee agency (UNHCR) chief told Reuters in an interview.
Speaking at the UNHCR offices in Kyiv following a six-day tour of Ukraine, Filippo Grandi said President Volodymyr Zelenskiy had asked his agency to "do more" to help children from occupied regions to whom this was happening.
"Giving them (Russian) nationality or having them adopted goes against the fundamental principles of child protection in situations of war," Grandi said.
"This is something that is happening in Russia and must not happen," he added.
Zelenskiy, after meeting Grandi on Wednesday, called for mechanisms to be established to "defend and return" children and adults deported to Russia since its invasion of Ukraine last February, as well as to punish those responsible.
Grandi said his agency was unable to estimate the number of children who had been given passports or put up for adoption, as access in Russia was extremely limited.
"We are seeking access all the time, and access has been rather rare, sporadic and not unfettered," he said.
In Moscow, foreign ministry spokeswoman Maria Zakharova accused Grandi of being silent when children died as a result of what she said was Ukrainian shelling in the Donbas region after pro-Moscow separatists declared independence in 2014.
"I also wish such officials from the U.N. had taken note of the colossal humanitarian assistance" that Russia had provided to inhabitants of the region, she told reporters.
FUTURE TRENDS
Grandi highlighted two potential future trends in Ukraine's displacement crisis, which saw eight million people flee abroad and several million more become internally displaced.
More refugees could return in the warm season, as happened in 2022 when the agency observed "hundreds of thousands" of returnees at the end of the summer - although that movement was halted by the onset of the cold.
Ukraine's typically icy winter has been made harsher still this year by Russian missile strikes against energy infrastructure, leading to outages of power, water and heat.
"We have seen returns drop considerably, long or short, in the winter months ... coupled with a very slight increase with people getting out of the country," he said.
Grandi also warned that and increase in fighting could trigger a new wave of refugees, although these are likely to mostly be internal.
"What we have seen in the last few days is not very promising in this respect, everybody foresees that there will be a rise in hostilities, an escalation ... and this is likely to generate a more displacement."
GLOBAL VIEW
Grandi painted a bleak global outlook, predicting that the number of displaced people, currently at 103 million, would "almost inevitably" grow in the coming years if the U.N. Security Council continued to be divided on key issues.
He also urged countries to process prospective asylum seekers more quickly in order to stop unfounded asylum claims from clogging up the system.
"Don't drag it out! Because dragging it out means that people abscond, they disappear, they become illegal immigrants, and then its a big problem because nobody knows how to send them back," he said.