Poland vaunts diplomatic win after German tank decision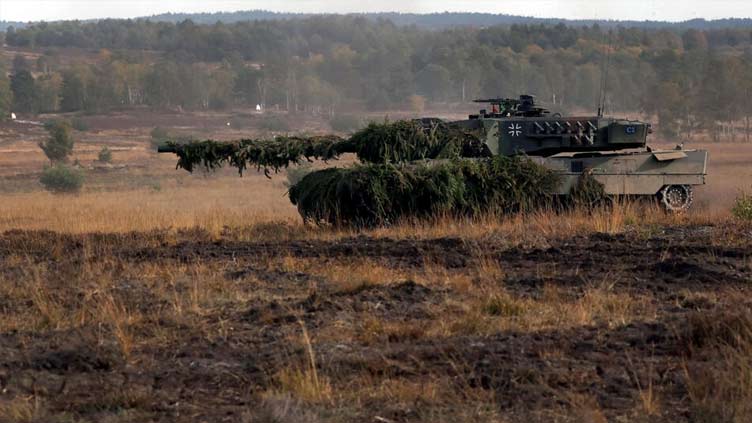 World
Poland was the first country to offer to send Leopards to Ukraine.
WARSAW (AFP) – Poland on Wednesday vaunted the key role its tenacious diplomatic wrangling played in Germany deciding to send Leopard tanks to Ukraine after weeks of feet dragging by Berlin.
Warsaw, the first country to offer to send Leopards to Ukraine, was fiercely critical of Berlin's reluctance to approve sending the powerful German-made tanks to Ukraine.
Kyiv had long pleaded for Berlin to permit shipments of the high-performance tanks, leading to relentless diplomatic lobbying from its European allies, with the United States also playing a critical role.
However, as allies waited for the green light this week, Warsaw heaped on the pressure, saying it would send the tanks even if it did not get Germany's approval.
"Our diplomatic moves and bilateral discussions brought the expected result," Poland's Deputy Defence Minister Wojciech Skurkiewicz told reporters after the German announcement.
Poland has been an ardent supporter of neighbouring Ukraine since day one of Russia's invasion, fearing it could find itself in Moscow's crosshairs next if Kyiv loses the war.
The EU member immediately opened its doors to refugees from the war-torn country -- welcoming more than any other nation -- and has been generous in providing assistance and arms to Ukraine.
'Leadership and determination'

Poland's efforts in pushing for the tanks in coordination with other allied countries drew praise from Kyiv.
"I thank Poland for their leadership and determination regarding Leopard 2 tanks for Ukraine and building an international coalition," Ukraine's ambassador to Poland Vasyl Zvarych wrote on Twitter.
Ukraine, which is still using Soviet-era tanks, believes the Leopard could prove critical in helping it punch through enemy lines.
Germany said Wednesday it would send 14 of its Leopards, and allow other European nations to send tanks from their own stocks.
Polish Prime Minister Mateusz Morawiecki hailed the decision as "a big step towards stopping Russia" while presidential aide Marcin Przydacz hailed his country's "effective diplomacy".
"The joint diplomatic offensive of Poland and other allied countries made Germany change their mind," Polish government spokesman Piotr Muller told reporters.
Warsaw's voice was amplified by the three ex-Soviet Baltic countries Estonia, Lithuania, and Latvia, who jointly called on Germany to send the Leopards as soon as possible.
Lithuanian Defence Minister Arvydas Anusauskas on Wednesday credited NATO unity for getting Ukraine the tanks.
"I think that allies' willingness to maintain that unity is something that Germany could not shy away from," Anusauskas told reporters.
However, other countries in the region, like the Czech Republic and Slovakia, stopped short of exerting pressure on Berlin over arms deliveries to Ukraine.
'Crucial' US role

Germany's long-awaited decision was followed by United States President Joe Biden promising 31 Abrams tanks, one of the most powerful and sophisticated machines in the US army's inventory.
US officials said they had not bowed to reported German pressure for Washington to pledge Abrams as a way to push Berlin to decide.
"Germany didn't force me to change my mind. I wanted to make sure we are all together," Biden told reporters, when asked about the coordinated announcement.
Political scientist Klaus Bachmann said Poland's role should be seen as part of a broader diplomatic offensive.
"Crucial here was the position of the US," the professor at Warsaw's SWPS University told AFP.
"It's been like that since the beginning of the Russian invasion: the German government has doubts, then there's a conversation with the US, and the German government bends," he added.
According to Artis Pabriks, Latvia's defence minister until last month, the tank saga raises questions about Europe's strategic autonomy.
"How can this continent be militarily autonomous if larger countries cannot make right decisions in the right time without (the) US holding their hand?" he tweeted.
Domestic power struggle

In Poland, the tank dispute also bled into the political debate ahead of a general election later this year.
Morawiecki accused the opposition of being soft on neighbouring Germany, singling out former Polish premier Donald Tusk.
"It is quite telling that neither Donald Tusk nor Civic Platform (main opposition party) push Germans too hard," he said.