US calls for UN to urge Taliban to reverse bans on women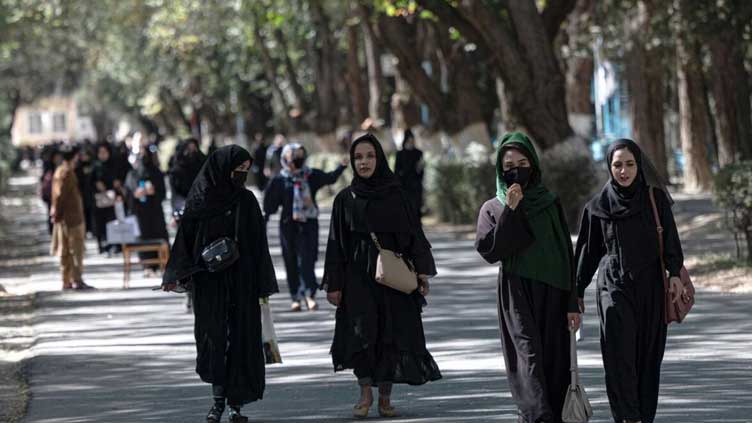 World
US calls for UN to urge Taliban to reverse bans on women
UNITED NATIONS (Reuters) - The United States on Friday pushed the U.N. Security Council to adopt a resolution calling on the Taliban-led authorities in Afghanistan to reverse bans on women working for aid groups or attending universities and high school, diplomats said.
The 15-member council met privately on Friday - at the request of the United Arab Emirates and Japan - to discuss the decisions by the Islamist Taliban-led administration, which seized power in Afghanistan in August 2021.
U.S. Ambassador to the United Nations Linda Thomas-Greenfield told the council that given the gravity of the situation it should unanimously adopt a resolution to condemn the bans and call for an immediate reversal, said diplomats.
It was not immediately clear whether all members would back such a formal move by the council. A resolution needs nine votes in favor and no vetoes by the Russia, China, Britain, France or the United States to be adopted.
The Security Council agreed by consensus to an informal statement last month calling for the full, equal and meaningful participation of women and girls in Afghanistan, denouncing the ban on women attending universities or working for aid groups.
Before the meeting on Friday, 11 Security Council members - including the United States, Britain and France - issued a joint statement urging the Taliban to reverse all oppressive measures against women and girls.
The ban on female aid workers was announced by the Taliban-led administration on Dec. 24. It followed a ban imposed earlier last month on women attending universities. Girls were stopped from attending high school in March.
CHILDREN WILL DIE
The United Nations has said that 97% of Afghans live in poverty, two-thirds of the population need aid to survive, and 20 million people face acute hunger.
UNICEF Executive Director Catherine Russell described the ban on female aid workers as "both wrong and dangerous," according to her prepared remarks for the private Security Council meeting on Friday, seen by Reuters.
"It is not hyperbole to say that without them, lives will be lost, children will die," she said.
Russell said UNICEF was reviewing the impact of the ban on its work and "as the situation evolves, we will have to make difficult decisions as to which activities we can continue, and which must be suspended."
International Rescue Committee President David Miliband said the IRC has been forced to pause most operations, but it was aiming to find ways to work around the ban "since its outright reversal seems very unlikely," according to his prepared remarks for the council meeting, seen by Reuters.
"Based on the clarity provided by the Ministry of Public Health, the IRC has resumed health and nutrition services through our static and mobile health teams in four provinces. Other NGOs (aid groups) are doing the same," Miliband said.
"We have a long way to go, but it is a start," he added.