Russia resumes long-range bombardment of Ukrainian cities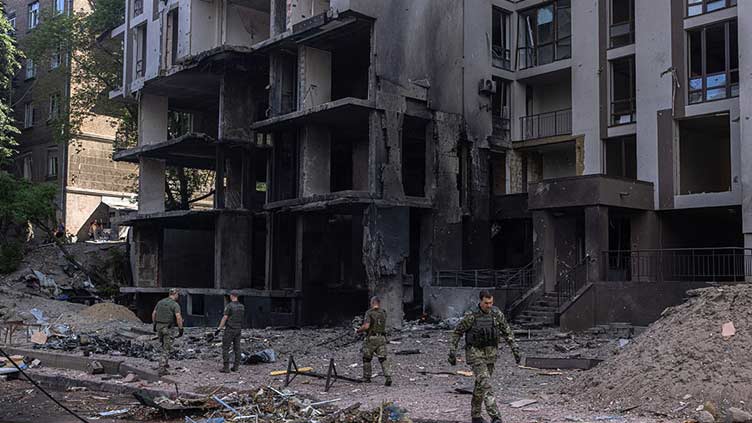 World
Kyiv said the strike killed at least 23 people and wounded dozens.
KYIV (Reuters) - Russian forces shelled the southern Ukrainian city of Nikopol on Saturday, the latest in a series of bombardments of urban areas that has killed at least 37 people in the last three days and wounded scores.
Ukrainian emergency services said two people were wounded and another two were trapped under rubble in Nikopol, which is on the Dnipro River.
Late on Friday, Russian missiles hit the city of Dnipro, about 120 km (75 miles) north of Nikopol, killing three people and wounding 15, regional Governor Valentyn Reznychenko said on Telegram. Rockets hit an industrial plant and a street next to it, he said. Footage on social media showed thick black smoke rising from the buildings and burning cars.
A Russian strike hit the northeast Ukrainian town of Chuhuiv in Kharkiv region overnight, killing three people including a woman of 70, and wounding three more, the regional governor said.
The strike damaged a residential block, a school and a shop, and rescuers were going through the rubble, Governor Oleh Synehubov said on Telegram.
The attacks were the latest in a series of Russian hits in recent weeks using long-range missiles on crowded buildings in cities.
Eight people were killed and 13 injured in a string of shellings in 10 locations in the eastern region of Donetsk, Governor Pavlo Kyrylenko said in a television interview on Friday.
On Thursday, Kalibr cruise missiles launched from a Russian submarine in the Black Sea hit an office building in Vinnytsia, a city of 370,000 people about 200 km (125 miles) southwest of Kyiv.
Kyiv said the strike killed at least 23 people and wounded dozens.