Last Updated On 17 July,2017 01:36 pm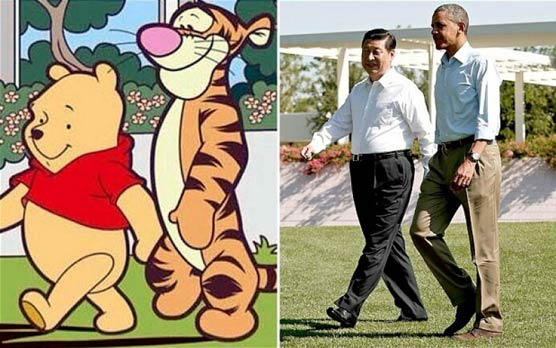 Chinese media banned pictures of Winnie the Pooh for 'resembling' Premier Xi Jinping. Photo:Twitter
(Web Desk) - Chinese social media has banned any mention of fictional character Winnie the Pooh, The Financial Times reported.
Although, no official explanation has been provided, many observed that the reason behind the ban might be due to certain viral posts on Twitter suggesting a resemblance between Winnie the Pooh and Chinese Premier Xi Jinping.
---
A bear, however hard he tries, Falls foul of Chinese censors eyes https://t.co/ToOCHHZT7I pic.twitter.com/8H9ITqIc1M

— Financial Times (@FT) July 16, 2017
---
One observer said "talking about the president" appeared to be among activities deemed sensitive ahead of the country's upcoming 19th Communist Party Congress, when leadership renewal is expected, CNBC reported.
Earlier, some social media users compared the meeting between Chinese premiere and Japan's Prime Minister Shinzo Abe, who was pictured as Eeyore, the sad donkey, alongside Pooh bear.
---
RT @benyunmowang I really should read Winnie the Pooh... #Xi #Abe #APEC2014 #China #Japan @EleanorFreund @mwings17 pic.twitter.com/W9nr0Hx1XA

— Nancy (@NancyYunTang) November 10, 2014
---
Chinese media continues to censor anything even remotely offensive to the leadership and has been criticised for its authoritarian practices.
Comparisons between Xi and Disney-owned Winnie the Pooh first circulated in 2013 during the Chinese leader s visit with then U.S. President Barack Obama.
A photo of Xi standing up through the roof of a parade car, next to a picture of Winnie the Pooh in a toy car, was named the "most censored image of 2015" by political consultancy Global Risk Insights.
The FT report said posts with the Chinese name of the portly character were censored on China s Twitter-like platform Sina Weibo. A collection of animated gifs featuring the bear were also removed from social messaging app WeChat, according to the FT.
Recently, China's censors scrubbed any mention of RIP messages, candle emojis, and other tributes to Nobel laureate Liu Xiaobo on social media networks as they seek to silence discussion about the rebel's death.
The 61-year-old democracy activist died Thursday from liver cancer while under heavy police guard at a hospital in the northeastern city of Shenyang but most Chinese remain clueless about his death or even who he was.