Last Updated On 14 July,2017 03:40 pm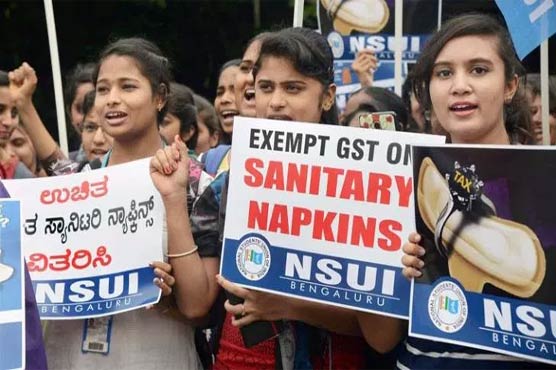 Indian students send sanitary napkins to Finance Minister in protest against taxation
(Web Desk) - Students from Delhi – male and female, sent sanitary napkins to Finance Minister Arun Jaitley to mark a protest against imposing 12 per cent tax on women's hygiene product.
Backed by women activists from the All India Democratic Women's Association, the students sent the napkins with the slogan "Bleed without fear, Bleed without tax" written on them.
The protest is expected to continue till July 14 and has also been taken up in other Indian cities.
"Sanitary napkins are still considered a taboo in our society and we see it in small things, like how chemists wrap them up in black polythene bags so that they aren't visible to the public. It's almost like denying its existence. Hence, we thought we should send these to Arun Jaitley to make him realise that sanitary pads are a necessity for almost half of the country's population," said Ditsa Bhattacharya, a Students' Federation of India (SFI) activist from PGDAV College, according to The Indian Express.
In some developing countries like Pakistan and India, issues related to women's health are widely ignored.
Speaking about the campaign, SFI state secretary Prashant Mukherjee said, "Sanitary pads are considered as luxury items and taxed accordingly, but the reality is that these are part of basic necessities for a healthy and hygienic life of a woman. A study by AC Nielsen, published in the International Research Journal of Social Sciences, shows that among women who do not use sanitary pads Reproductive Tract Infection (RTI) is 70 per cent more common than those who have access to it."
He further said the same study shows that in North India over 30 per cent girls stopped going to school after the start of their menstrual cycle due to lack of adequate sanitary products.