Kerry urges Syria rebels to negotiate despite Russia bombings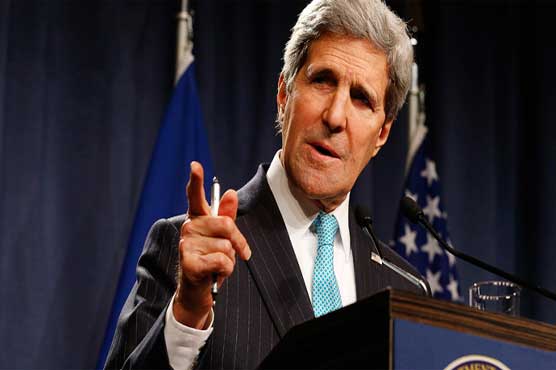 John Kerry urged Syrian opposition negotiators to remain in peace talks despite Russia bombings.
ROME (AFP) - US Secretary of State John Kerry urged Syrian opposition negotiators to remain in peace talks despite the fact that they are still under bombardment by the regime s ally, Russia.

Speaking as the Geneva peace process still in disarray, Kerry promised that a ceasefire would be rapidly implemented if only the two sides could begin to negotiate.

An opposition coalition has sent envoys to the talks in Geneva but has demanded an end to the bombing of besieged and starving Syrian populations before they negotiate in earnest.

"To the question of Russia bombing while they are sitting at the table: We are all extraordinarily sympathetic to the limits of propriety and common sense in the opposition sitting at a table while somebody continues to bomb you," Kerry said, after a meeting of US allies in Rome.

"But the agreement at the United Nations and the agreement in Vienna is that when the political dialogue begins there will be a ceasefire. So the hope, the expectation is that it shouldn t take long and we re not requiring people to sit at the table for months. That would be crazy."

Kerry noted that Russia had supported a United Nations Security Council resolution that insists upon a ceasefire as soon as talks on a Syrian political transition begin.

"The ceasefire has been embraced and voted for by Russia and they have expressed their support for it," he said, adding that he had discussed the issue with his Russian counterpart Sergei Lavrov in recent days.

"A ceasefire should be doable. The Russians can control the Russian planes. The Russians together with the Iranians, because they are supporting Assad, can control his planes," he said.

"And the Iranians can control the IRGC and Hezbollah," he added, referring to Iran s Revolutionary Guards Corp and the Lebanese militia, which have sent troops to back Bashar al-Assad s regime.

"And it s up to those of us who support the opposition to get the opposition to live by a ceasefire."

Kerry said he was to call the UN envoy leading the Geneva talks, Staffan de Mistura, later in the day and that the 17-nation International Syria Support Group that includes Iran and Russia would meet again next week.