Rebels blow up part of Donetsk airport, many wounded: Ukraine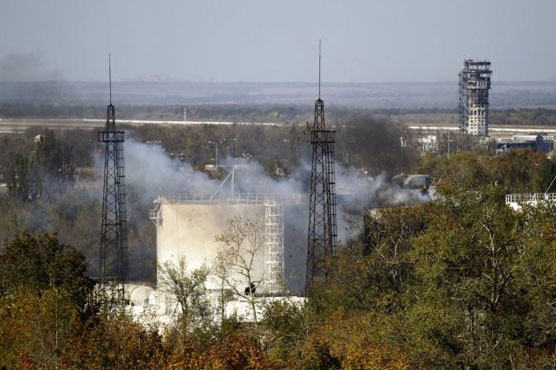 Airport was hit by heavy combat, both Kiev and rebels claimed control of site at various times.
KIEV (AFP) - Pro-Russian rebels blew up part of a ceiling at the battered Donetsk airport in war-torn eastern Ukraine on Monday, causing a section of it to collapse and wounding many soldiers, an adviser to the president said.
Further details of the incident were unclear, but the airport has been hit by heavy combat in recent days, with both Kiev and rebels having claimed control of the site at various times.
"A part of the ceiling of the first floor in the terminal collapsed because it was blown up by separatists," Yuri Biryukov, an adviser to Ukrainian President Petro Poroshenko who has been located near the front lines, wrote on his Facebook page.
"Debris fell in particular on soldiers. There are many injured."
Ukraine s military had earlier in the day reported three soldiers killed over the last 24 hours and another 66 wounded. It was not clear if the toll included those injured from the collapsed ceiling.
The airport has been the flashpoint of an upsurge in violence in recent days that has left a September truce in tatters, with heavy combat shaking the area at the weekend after Ukraine launched a major counter-offensive to push out the rebels.
Ukrainian forces claimed to have taken control of the airport, but rebels have disputed their account and there was no independent confirmation.
The ruined airport has been hit by repeated on-off clashes and control has often been divided between its various installations.