Last Updated On 17 January,2015 About 0 seconds from now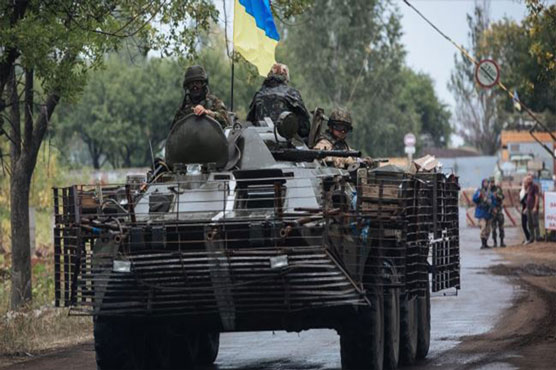 More than 4,800 people have been killed in the conflict
KIEV (AFP) - Fighting in eastern Ukraine has killed three soldiers, officials said Saturday, as an upsurge in clashes in recent days between the army and pro-Russian rebels centred around control of a battered airport.
Further battles shook the area around the Donetsk airport on Saturday, with Ukraine s military saying it was defending its positions despite rebel claims that they had taken control of the site.
The wrecked shell of the airport has been repeatedly hit by battles, but remains of symbolic and strategic importance.
"The situation there is really difficult," military spokesman Andriy Lysenko said in a briefing.
"There are constant attacks and attempts to attack, but the military command constantly sends reinforcements."
He said three Ukrainian soldiers had been killed and 18 others wounded over the past day, bringing the military s toll to at least nine dead since Thursday. At least five civilians have been reported killed since Thursday.
It was not clear if the new toll included a soldier killed by a booby-trapped honey jar that exploded in the Lugansk region on Friday.
An elderly man identifying himself as a local resident in Stanicya Lugans ka handed soldiers at a checkpoint a three-litre jar of honey and thanked them for their service before walking away, said Lugansk regional governor Hennadiy Moskal.
The jar later exploded, killing one soldier and seriously wounding three others in what appeared to be the first such attack since the war in Ukraine s east began in April 2014.
As fighting rocked the area around the airport on Saturday, Lysenko also alleged that Russia was increasing its military presence along the Ukraine border.
He said arms including TOS-1 flamethrowers, C300 missile systems and Smerch and Hurricane rocket launchers had been spotted near the Russian city of Rostov-on-Don close to the border and were being periodically moved into Ukraine for attacks.
Russia, under Western sanctions over its actions in Ukraine, strongly denies sending weapons and troops into the war zone despite witness claims to the contrary.
More than 4,800 people have been killed in the conflict, while talks aimed at ending the fighting have stalled.
A September truce has been frequently violated, while a peace summit between the leaders of Ukraine, Russia, Germany and France has been postponed until an unclear date.