The sculpture and Architecture-Inspired tattoos of Ruben Jordan Langsted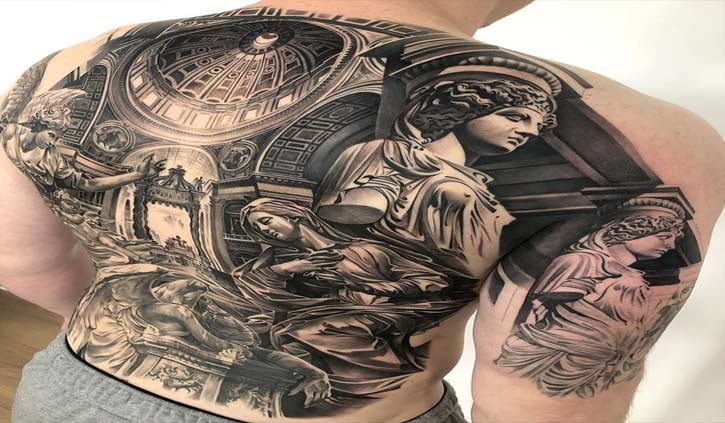 WeirdNews
I think I put around 40 hours total in it making it.
DENMARK (Web Desk) - Ruben Jordan Langsted is a talented tattoo artist who specializes in photo-realistic black & grey tattoos with high contrast and soft shadows.
Born in Norway but currently working out of the Dropout Collective tattoo shop in Copenhagen, Denmark Ruben Jordan Langsted is regarded as one of the world's best tattooers when it comes to realistic black & grey tattoos. He claims that he only does this style of tattoo simply because he's "not good at anything else," but according to other sources, he does it because it is such a technically demanding style that no matter how good you get, there is always room for improvement. Looking at some of his black & grey artworks inspired by classic sculptures and artistic interior design, it's hard to believe he could do any better.
The talented artist creates all sorts of realistic black & grey tattoos, from detailed portraits to nature-inspired landscapes, but there is just something about his sculpture and architecture-inspired works that stands out. Not only are they incredibly detailed, but the expertly placed shadows give them an uncanny, almost three-dimensional sense of depth.
Asked what his favorite artistic creation, Ruben Jordan Langsted chose an impressive backpiece he did for a fellow tattooer, featuring a statue of the Pope, with cemetery crosses and statues in the foreground and a large, detailed dome in the background.
"I think I put around 40 hours total in it making it the most time I spent on a backpiece ever," the artist said about his masterpiece.
Interestingly, Ruben Jordan Langsted doesn't have any realistic black & grey tattoos on his body, only colored works done in the traditional style by other tattoo artists.