Spirited Chelsea leave Mourinho aiming high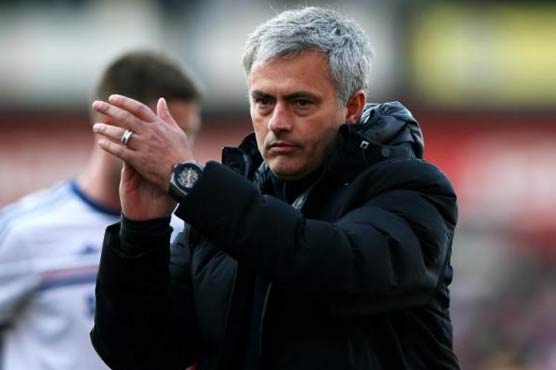 Chelsea were heading out of the competition until Ba bundled home in the 87th minute.
LONDON (AFP) - Chelsea manager Jose Mourinho hailed his side s "special spirit" after a dramatic late goal by Demba Ba propelled them into the Champions League semi-finals at Paris Saint-Germain s expense.
Despite trimming PSG s 3-1 aggregate lead through Andre Schuerrle, Chelsea were heading out of the competition until Ba bundled home in the 87th minute of Tuesday s quarter-final second leg at Stamford Bridge to send his team through on away goals.
The London club s comeback carried echoes of their 2012 success over Napoli, when they overcame a 3-1 first-leg loss in the last 16 with a 4-1 win before going on to beat Bayern Munich on penalties in the final.
While Mourinho has often declared that his team are a work in progress -- and described the victory over PSG as "nothing extraordinary" -- he said the belief that his players had shown augured well for the last four.
"We re in the semi-finals and if the quarter-finals had eight fantastic teams, imagine the four that are going to reach the semi-finals," he said.
"Anything can happen. A big opponent is waiting for us in the semi-finals, but I think it doesn t matter who. They know that we are the team with special spirit, even if we are not at the maximum of our potential."
Asked if he would like to face former club Real Madrid in the last four, Mourinho replied: "No. It doesn t matter. Real Madrid, Barcelona, Atletico (Madrid), Bayern Munich, Manchester (United), it doesn t matter."
Mourinho regularly complains about the lack of top-level goal-scorers in his squad and he hailed Ba s decisive contribution after electing to send him on instead of Fernando Torres in the 66th minute.
"He s a good guy, a good professional, a good group man. I m very happy for him," said the Portuguese.
"The fact I played him before Nando made him feel that he doesn t have the number three striker on his back and his enthusiasm was fantastic.
"He started to give problems to Paris that normally they don t have in their league because normally there s a different style of approach."
- I was not celebrating -
===========================
On his goal, Ba told ITV: "It all happened so quick. I saw the ball and it was in the goal.
"I just do what I have to do when I get chances. I didn t have chances this season, but tonight (Tuesday) I took it."
Mourinho celebrated Ba s goal by gambolling down the touchline towards his players, but he said that his dash was purely motivated by a desire to impart some tactical instructions.
"It was not to celebrate. It was to tell the players how we have to play the last minutes," he said.
"In that moment they want to celebrate, to think the game is over, and they forget that you still have three plus three or four minutes (of stoppage time) to play."
The only black marks for Chelsea were a booking for Branislav Ivanovic that rules him out of the first leg of their semi-final and a calf injury to Eden Hazard that Mourinho said could keep him out for two weeks.
For PSG it was a second successive quarter-final defeat on away goals, after last season s elimination at the hands of Barcelona.
They were left to rue a series of missed chances when the score was still 1-0, notably an effort that Edinson Cavani put over the crossbar, and coach Laurent Blanc said that his side could not use the supposed inferiority of Ligue 1 as an excuse.
"We can t hide behind that," he said. "You guys (journalists) often denigrate Ligue 1 compared to the Champions League, but we can t always use that as an excuse. We can t change it. Ligue 1 is what it is.
"In my opinion, the tie between PSG and Chelsea came down to not much. I d attribute it more to Chelsea s experience at this level compared to us.
"I think the familiarity with playing these matches ultimately makes the little difference. I d flag that up instead of the supposed weakness of Ligue 1."