India eyes access to Masood Azhar as Pakistan's JIT visit Pathankot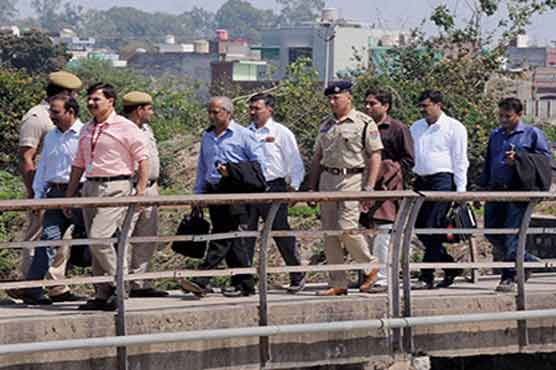 A special investigative team from Pakistan visited Pathankot Airbase amid protests.
Dunya News Report (Madiha Fareed)
India's National Investigative Agency's (NIA) chief Sharad Kumar told during an interview that India will ask for access to Jaih-e-Muhammad's (JeM) chief Masood Azhar, "we will send formal request after the Pakistan's JIT concludes its visit to India", Mr. Kumar told NDTV.

Earlier in the day, a five-member investigative team from Pakistan visited the siege site in Pathankot Airbase in tight security. The team entered the base through a specially-created entrance at the perimeter wall, which was breached by the terrorists on the fateful night. The team however was not permitted inside the Airbase and was only allowed to inspect the rear of the airbase. The inidian officials claimed that the Pakistani team was only taken to the "crime scene" where the encounter occurred between the security men and terrorists and the entire process was video-graphed and photographed by two Indian Air Force (IAF) personnel. The Pakistani JIT will today hold meeting with the NIA officials in New Delhi.

The Joint Investigative Team (JIT) consisted Punjab's Counter Terrorism Department's (CTD) head Tahir Rai, Inter Services Intelligence's (ISI) Lt. Col Tanvir Ahmed, Intelligence Bureau (IB) Lahore's Deputy Director Azim Arshad, Military Intelligence's (MI) Lt. Col Irfan Mirza and Gujranwala Counter Terrorism Department's Inspector Shahid Tanveer.

The visit was met with hostility from opposition parties in India, as scores of agitators belonging to Congress and Aam Aadmi Party (AAP) gathered outside the Pathankot Airbase. The protestors were carrying black flags and chanted Anti-Pakistan and anti-government slogans. And subsequently the visit of Pakistani team was cut short owing to the protests by members of opposition parties. The team was accompanied by Indian officials.

On January 2nd, 2016, four gunmen broke into Indian Air Force Base in Pathankot, in India's Punjab Province and engaged Indian forces in a heavy gunfire battle; the operation lasted four days killing all four attackers and seven Indian military personnel.

The incident came roughly a week after Indian Prime Minister Narendra Modi's surprise visit to Pakistan on Dec 25th, 2015, and jeopardized the hardly restored dialogue process between two nuclear armed nations.

Pakistani Government on February 18th had lodged First Information Report (FIR) on the basis on Intelligence provided by India to commence formal investigation into Pathankot Incident. On January 2nd, an Indian Airbase in Pathankot was attacked by four terrorists. The incident left 7 Indian military personnel dead, while the attackers were also killed.

Indian Media and government claimed that the banned Jaish-e-Muhammad (JeM) was behind the attacks. However no individuals or organizations were named in the FIR filed in Pakistan which infuriated the Indian authorities. India have long been adamant that JeM is behind insurgency in Indian –administered part of Kashmir and other parts of India. In the recent wake of events, Pakistan had put Maulana Masood Azhar, the chief of JeM, under "protective custody" but maintained that he'll only be prosecuted if found to be guilty beyond doubt.
Pakistan responded with all seriousness and agreed to cooperate in investigation to bring to justice all the culprits behind the attacks. A Special Investigative Team (SIT) was constituted and a First Investigation Report (FIR) was also filed for meaningful investigations. This was the first time that a team from Pakistan went to India to investigate a terrorist incident.