Zardari invites all stakeholders for 'charter of economy'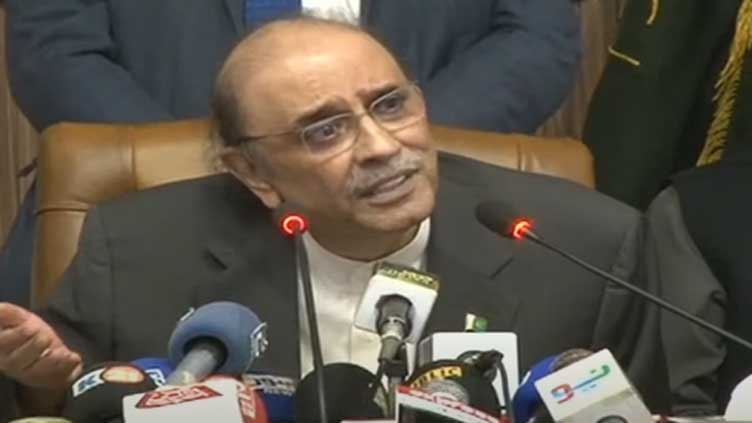 Pakistan
Not asking for donations but will, thought process, energy: Zardari
LAHORE (Dunya News) - As the Pakistan Peoples Party (PPP) regains political prowess in Punjab, party's co-chairman Asif Ali Zardari on Wednesday invited all the stakeholders to sit together for the "charter of economy".
Addressing a ceremony on charter of economy arranged by Federation of Pakistan Chambers of Commerce and Industry (FPCCI), he said, "Individuals do not matter, so let's sit down and think beyond," he added.
"I am not asking for donations, but your will, thought process, and energy to be able to implement for what I think the world of tomorrow will be," former president clarified.
He went on to say that people had seen the PPP ruling in the past, adding that his party's government was better than that of everybody else. "We have to lift forex reserves to $200billion," he added.
Read Also: Zardari in Lahore to net PTI deserters

All Pakistani businessmen should form industrial groups and invest. "We shall guarantee [return on] your investment," he added.
"The world is built by private sector and not by public sector," he said.
He continued saying that common people were already under the burden, adding that tax rates should be slashed. "Economy is not for five years, it's for the coming generations," he added.
Mr Zardari said if exports' value was raised to $300billion, it would make people forget claims of defence spending. "The PPP government has constructed seven bridges in Sindh on the Indus through public-private partnership," he added.
Know More: Zardari, Shujaat discuss political situation

Former president said that it was the duty of politicians to make policies and not do businesses. "Why did not anyone pay attention to Gwadar," he asked.
"I will make policies and it is your duty to take them forward," he said.
Earlier, Mr Zardari extended his stay in Lahore till June 12 as political leaders continued to join the PPP. It is expected that more leaders from Punjab will join the party in the coming days.