PM Shehbaz gave 'ill response' to President Alvi's letter: Fawad Chaudhry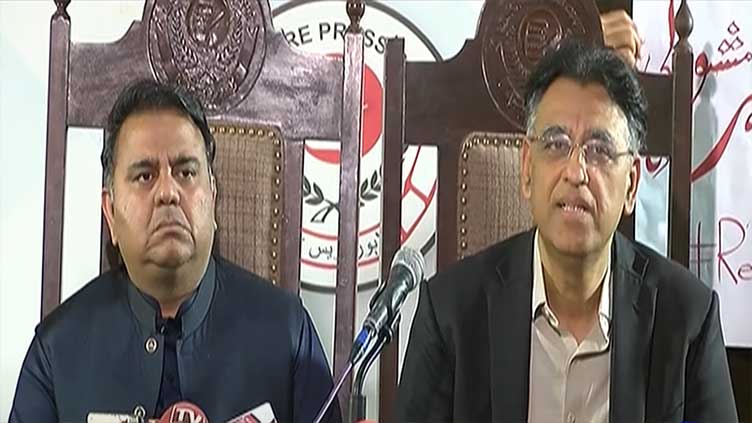 Pakistan
Country not far from constitutional government
LAHORE (Dunya News) – Pakistan Tehreek-e-Insaf (PTI) senior vice president Fawad Chaudhry on Sunday said Prime Minister Shehbaz Sharif gave an ill response to President Dr Arif Alvi's letter written within the constitutional provisions.
Mr Alvi had, earlier, asked the PM to direct the concerned authorities to assist the Election Commission of Pakistan (ECP) for elections in Punjab and Khyber Pakhtunkhwa in line with the Supreme Court's order for holding elections to avoid any complication including the contempt of court.
Addressing a presser along with PTI general secretary Asad Umar, he said the way PM had responded to the president's letter was enough to dawn [on people] how lowly a man he was. "There is no space for forced disappearances in the country and the country is not far from constitutional government", he added.
He said hundreds of thousands of people rejected the tactics being employed by the fascist government at the PTI's Minar-e-Pakistan rally on Saturday night adding that the entire country was standing beside PTI chief Imran Khan. "All ways leading to Minar-e-Pakistan were blocked using containers and we cannot find an equivalence to this government's oppression", he added. People were being captured from Lahore and termed "missing persons", he said, and FIA was serving notices on them.
He alluded that he had not witnessed the worse treatment of political workers adding that women were being harassed inside their homes. "We cannot tolerate such ill-treatment", he added.
Read Also: Police raid house of Farrukh Habib's in-laws for his arrest

He went on to say that so far six persons had died in the pursuit of obtaining subsidized flour bags imploring where they [the government] had brought this country to. "The incumbent government will drag down the country to the Financial Action Task Force's (FATF) grey list again", he added. Oil prices had decreased in the international market, he said, but they increased in Pakistan.
He said politics was defined as trekking forward after looking into others' arguments adding that the way the government was moving forward had given rise to a big crisis in the country. "You are so afraid that you are distancing yourself from elections and all eyes are on the Supreme Court", he added.
Mr Umar said there would be no space for democracy in the country if the country was run the way it was being run adding that next week would be decisive in the country's history. "Country has no longer a judiciary of the 1950s and everyone will see the judiciary defending the country", he added.
He continued saying that a case was lodged against Hassaan Niazi in Lahore after being commuted to Quetta adding they [the government] were taking the country to nothing but destruction. "People came out on their own for the PTI's rally on Saturday night and they did not do so for Mr Khan", he added. Fascism was, he said, at its peak in the country.