Maryam slams Imran for 'politics' on women, children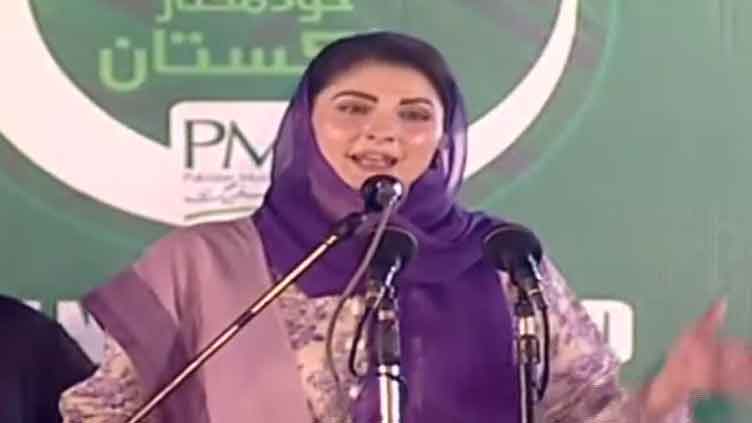 Pakistan
Maryam vows to win elections
LAHORE (Dunya News) – Pakistan Muslim League-Nawaz (PML-N) senior vice president Maryam Nawaz lambasted on Wednesday Pakistan Tehreek-e-Insaf (PTI) chairman Imran Khan, saying the latter was doing politics on women and children.
Ms Nawaz presided over the meeting of Lahore Division, during which she said that his party will contest the elections and win. "We will not accept selection like in the past. We did not get complete relief from the elements of conspiracies," added Ms. Nawaz.
Lavishing praise on PML-N supremo, Ms Nawaz said, "Nawaz Sharif is the leader with courage who protected his workers. Nawaz came from London and went to jail with his daughter in the bogus cases. That is what bravery is all about."
She took a jibe at Mr Khan, saying he was afraid to appear before the court from his residence in Zaman Park.
Read also: Imran acquires properties for his generations by selling Toshakhana gifts, bemoans Maryam
On Tuesday, Ms Nawaz said that her party had geared up to win elections."
Addressing a convention, Ms Nawaz lavished praise on the PML-N supporters, saying, "The passion of the workers is forcing me to contest elections from Sheikhupura.
Reminding the deposed premier about "making a case against the interior minister", Ms Nawaz said Mr Khan had made a bogus case against Rana Sanaullah. "Today, Rana Sanaullah has been appointed as the interior minister, while Imran is hiding in his home," she added,
Slamming Mr Khan for evading arrest, Ms Nawaz said she never saw any of the political leaders to remain feared in terms of getting arrested.
"Whenever the court summoned him, he made excuses of being injured. What type of threat to life that can only happen while he is appearing before the court? But there is no threat to life to Imran in connection with the staging of public gatherings," Ms Nawaz schooled Mr Khan.
Read also: Maryam accuses Imran of economic meltdown
She said Mr Khan started to panic like a child, whenever the police came to arrest him.
Recounting the return of PML-N supremo, Ms Nawaz said, "Nawaz Sharif came to country by leaving her dying wife."
"Why are you escaping accountability if you are not involved in any sort of plundering," questioned Ms Nawaz. The one who does not involve himself in any sort of plundering gives accountability, even of his generations," said Ms Nawaz.