Maryam accuses Imran of economic meltdown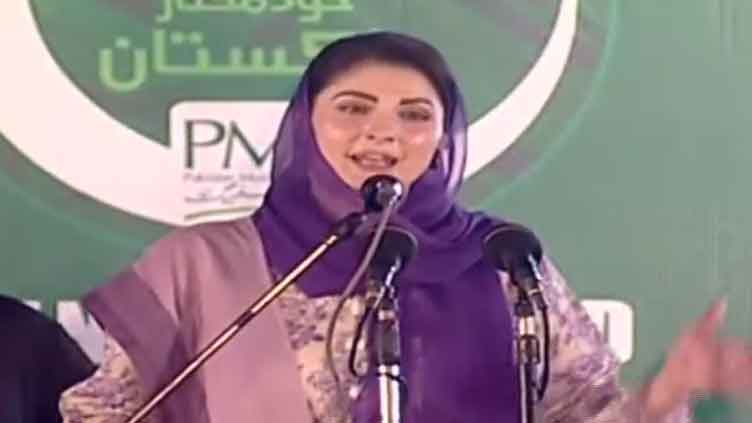 Pakistan
Maryam fires a broadside at Imran
FAISALABAD (Dunya News) – Pakistan Muslim League-Nawaz (PML-N) senior vice president Maryam Nawaz launched on Friday a broadside at Pakistan Tehreek-e-Insaf (PTI) Chairman Imran Khan, saying the latter had dragged the country to quagmire.
Addressing a convention, Ms Nawaz bashed Mr Khan over reaching an agreement with the International Monetary Fund (IMF), saying, "Imran Khan had left the country in severe economic hardships by reaching an agreement with the international lender."
She said, "When the court asks Imran to appear before the court, he makes excuses. Imran remains ready for staging rallies, but gets ill in connection with appearing before the court."
Ms Nawaz took a jibe at Mr Khan, saying, "Why PTI workers come to protect Imran. Imran should protect himself with the money he plunders."
Earlier today, PML-N senior vice president Maryam Nawaz claimed that PML-N supremo Nawaz Sharif was poisoned in captivity which made his platelets count go down.
She said when Mr Nawaz was fighting for his life, it worried some people, adding that it made them allow Mr Sharif to leave the country. "Time will reveal that PTI chairman Imran Khan was also part of this [plan]," she added.
Read also: Sukkur court dismisses petition seeking sedition case against Maryam Nawaz
Earlier, Ms Nawaz said former prime minister Nawaz Sharif was fully capable of steering the country out of the present challenges. She added that Pakistan was progressing in every field under the leadership of Nawaz Sharif.
In 2018, an accountability court jailed former prime minister Nawaz Sharif, daughter Maryam Nawaz and son-in-law retired Capt Muhammad Safdar. They were arrested upon their arrival to the country in the same year and later shifted to Adiala jail over corruption charges in the Avenfield reference. Later, in 2019, the PTI led government allowed him to leave the country for a medical checkup as Mr Sharif had claimed that his platelets had fallen to a fatal level.