Imran issues call to action amid pitched battle between police, PTI workers at Zaman Park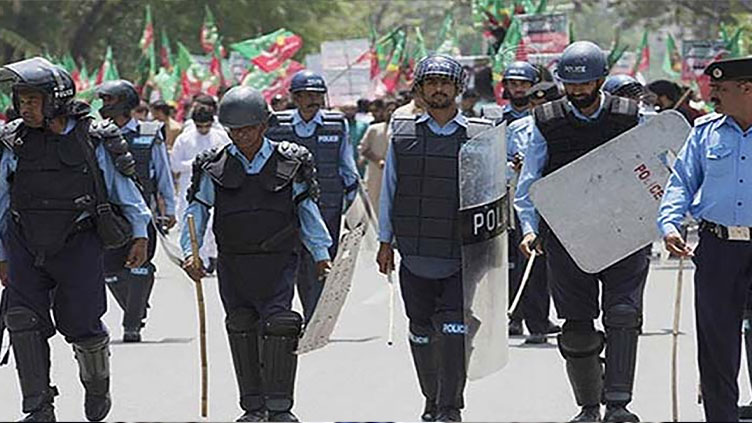 Pakistan
Rangers arrive at Zaman Park upon Punjab govt's call
LAHORE (Web Desk) - A heavy contingent of the Islamabad police on Tuesday had a clash with the Pakistan Tehreek-e-Insaf (PTI) workers and supporters outside party chief Imran Khan's Zaman Park residence.
A number of people gathered on Canal Road despite obstructions put up by police hours earlier. The police team from the capital city reached Lahore to arrest Imran Khan in the Toshakhana case. Police and the public clashed on Canal Road as a result of which some people were taken into custody and officials had to resort to baton-charge, water spray and tear-gas shelling.
— PTI (@PTIofficial) March 14, 2023
Punjab government also called Punjab Rangers to arrive at Mr Khan's residence which was responded to by a fleet of Rangers comprising four vehicles reaching the destination. Senior officers of the Lahore police and personnel also made it to Zaman Park to effectively tackle the mob. A helicopter flew over the area for aerial surveillance in the evening.
After issuance of non-bailable arrest warrants for PTI chief Imran Khan in Toshakhana case, a team of Islamabad police on Tuesday reached Lahore to get the court orders implemented. Police brandished the court order and warned people against creating law and order situation.
Speaking to reporters, DIG Operations Shahzad Bokhari, who was clad in riot gear, said the team had arrived to arrest the PTI chief. He said police had warrants for the arrest of Imran Khan who failed to appear before the court. Reports said the DIG was injured amid the police's clash with the PTI activists who pelted stones. He was later shifted to the hospital for treatment. Several other policemen were injured and taken to the Services Hospital for treatment. Police also took into custody scores of assailants.
— Dunya News (@DunyaNews) March 14, 2023
Earlier, a police armoured vehicle also reached Zaman Park at noon. On the other hand, activists of the PTI started gathering over there. Soon after reaching Lahore to get the arrest warrants implemented, the capital police had a consultative meeting with Lahore CCPO Bilal Siddique Kamyana. The meeting mulled various options to arrest the PTI chief.
They said consultations had been completed and plan finalised to confront any possible reaction by the PTI leaders and workers. A list of local PTI leaders and activists has been prepared. The Lahore police said any effort to obstruct law-enforcement agencies would be dealt with sternly. Sources further said the Islamabad police would contact the security officer of PTI chief Imran Khan.
The official Twitter handle of the PTI also asked the party supporters to reach Zaman Park.
— PTI (@PTIofficial) March 14, 2023
The Islamabad court had issued non-bailable arrest warrants for Imran Khan in the Toshakhana and judge threat cases over his continuous skipping of court hearings.
Imran asks public to continue struggle even if he is arrested or killed
PTI chief Imran Khan in a short address to people said the police had arrived at his residence to arrest him. "They think that my arrest will snooze the public but you have to prove them wrong", he added. He was fighting for the people, he said, as he had always done. He maintained that whether they arrested him or killed him, people had to continue the struggle.
— Imran Khan (@ImranKhanPTI) March 14, 2023
Shah Mehmood Qureshi wants police to furnish arrest warrants before arresting Imran
PTI Vice Chairman Shah Mehmood Qureshi said on Tuesday the police should furnish arrest warrants so that the party might consult with PTI chief Imran Khan, and asked the police to stop using force on PTI activists that gathered outside Mr Khan's house.
Speaking to the media outside Mr Khan's residence, he said Mr Khan might surrender himself to avert bloodshed, adding that the police had an agenda of bloodshed. "The party is ready for holding negotiations with the police over the matter," he added. He reiterated that the police should meet him. The police wanted to use force, he said, to thwart the way to elections in the province.
He went on to say that Mr Khan would not surrender until the party completed its consultations. On another occasion, he said today's (Tuesday) arrest was illogical and added that Mr Khan was on protective bail.
IHC to take up PTI's plea challenging Imran's arrest warrants on Wednesday
PTI Senior Vice President Fawad Chaudhry said the party had approached the IHC to challenge Mr Khan's arrest warrants. Taking to Twitter, he shared a picture of the signed file showing that the court had taken up the plea for hearing and wrote, "IHC will hear the plea shortly".
— Ch Fawad Hussain (@fawadchaudhry) March 14, 2023
However, the court rejected the party's plea to take it up for hearing today (Tuesday) and fixed it for hearing on Wednesday.
Earlier, PTI's Hassan Niazi said the party would challenge the arrest warrant in the court as it did not trust the police. Meanwhile, Farrukh Habib also shared footage outside Zaman Park and said PTI's chief was in danger and his appearance in the F-8 would not be less than death trap.
PTI's senior leader Fawad Chaudhry said the entire PDM government had looted the resources yet the police only wanted Imran's arrest.
— Ch Fawad Hussain (@fawadchaudhry) March 14, 2023
On Monday, PTI Chairman Imran Khan did not appear before court due to security fears, however, he led an election rally in Lahore. An Islamabad court on Tuesday suspended arrest warrants for Imran Khan in the judge threat case till March 16.
— Farrukh Habib (@FarrukhHabibISF) March 14, 2023

Additional Sessions Judge Faizan Haider Gilani, while barring police from arresting Mr Khan, issued notices to both parties. The court adjourned hearing till March 16. However, in Toshakhana case, Imran's arrest warrants are still effective.
PML-N senior vice president Maryam Nawaz said if any police official or personnel was hurt, Mr Khan would be responsible. Taking to Twitter, she wrote, "Nations' sons are not for nothing, they are performing their duty".
— Maryam Nawaz Sharif (@MaryamNSharif) March 14, 2023