Alleged audio call of PTI Usman Dar's lawyer surfaces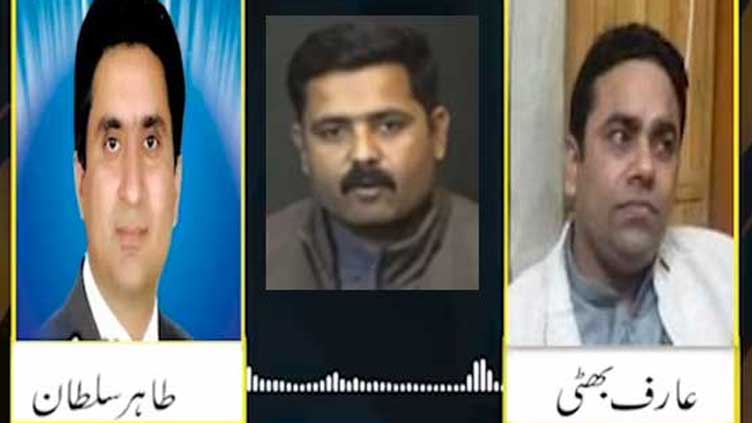 Pakistan
Alleged audio call of PTI Usman Dar's lawyer surfaces
LAHORE (Dunya News) - The recording of an alleged audio call between Pakistan Tehreek-e-Insaf (PTI) leader Usman Dar and his alleged front man Javed Ali's lawyer Tahir Sultan with his friend Arif Bhatii surfaced.
According to details, Tahir Sultan can be heard discussing yesterday's deposed premier Imran Khan's video link address flanked by Usman Dar and his front man Javed Ali. In the address the PTI chief alleged that Javed Ali was abducted and tortured to give false statements against Usman Dar.

In the alleged audio, lawyer Tahir Sultan making fun of Javed Ali's press conference said that "Javed told me that he was not tortured but in the presser his claims were opposite from what he discussed with me."

Earlier, in a presser, Imran Khan said that people are being forced to give false statements after the ouster of the PTI government. "Attempts were made to file fake cases, corruption cases and run audiotapes to blackmail us."

He said that the affected citizen namely Javed Ali will tell his story by himself. He added that Usman Dar had facilitated Javed Ali to get a watchman's position – a Grade 4 government job.

Javed Ali said that he works as a watchman in the education department and he was summoned via a telephone call. "Four policemen came in and shifted me to an unknown location after covering my face with a cloth. Some unidentified men had also come there."

"I was subjected to brutal tortured and hanged upside down. I was asked how much money you pay to Usman Dar [to get this job]. After I refused, they tortured me again. I was stripped naked and filmed. They threatened me to film the videos of my family too and post them on social media."

Ali added that he was forced to record a statement against Usman Dar for receiving bribes from contractors. He said that his wife was also brought to the next room and blackmailed.
Watch here