NA Speaker says entry of PTI MNAs to be decided after receiving LHC order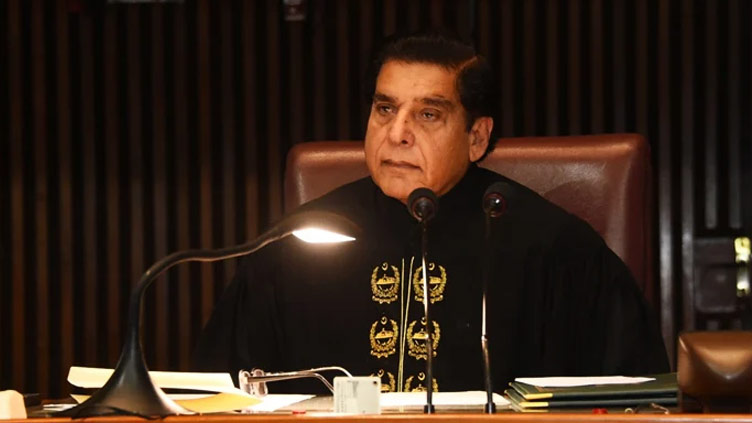 Pakistan
NA speaker accepted resignations of 43 PTI MNAs on January 24.
ISLAMABAD (Dunya News) - National Assembly Speaker Raja Pervaiz Ashraf said on Thursday he has not received the Lahore High Court's order that suspended Election Commission of Pakistan's (ECP) notification regarding the MNAs resignation.
In a video message today, Mr Ashraf said "After receiving the verdict, it would be thoroughly read and then the decision regarding the entry of the members would be taken".
He stated that the government was only made a "party" in the case, which he claimed they "heard on television and have not received the notice".
"I believe that once the decision comes and we read it … we will consult our lawyers and experts and then decide the way forward," the NA speaker added.
The speaker had directed the National Assembly Secretariat to stop 43 lawmakers belonging to the Pakistan Tehreek-e-Insaf (PTI) from entering the House.
National Assembly Speaker Raja Pervaiz Ashraf had accepted resignations of 43 more PTI lawmakers on Jan 24, a day after they announced the withdrawal of their resignations in a bid to bar opposition leader Raja Riaz, a dissident PTI leader, from negotiating with the government on caretaker set-up in case general elections are announced.
Following the speaker's decision, the Election Commission of Pakistan (ECP) denotified 43 MNAs. However, the Lahore High Court (LHC) on Tuesday suspended an order issued by the Election Commission of Pakistan (ECP) to denotify the PTI lawmakers.
The court has also stopped the electoral body from holding by-elections in the constituencies until further orders.