Imran Khan announces 'Jail Bharo Movement'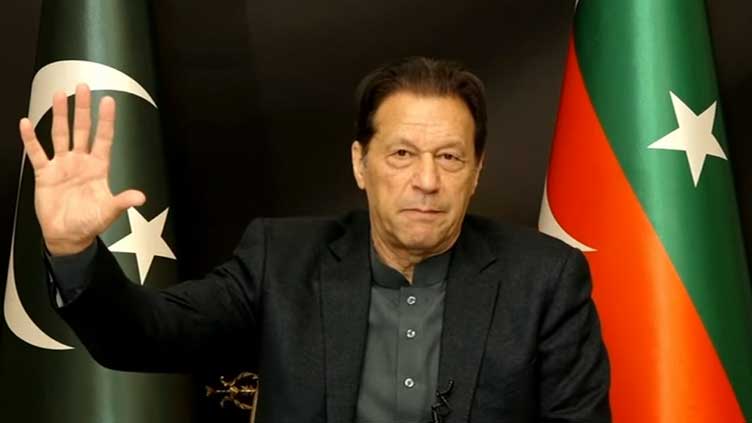 Pakistan
Imran Khan announces 'Jail Bharo Movement'
LAHORE (Dunya News) – Pakistan Tehreek-e-Insaf (PTI) chairman and former prime minister Imran Khan has announced the "Jail Bharo Movement."
Addressing the nation on Saturday, he said members of the PTI and its supporters were being targeted in revenge activities. "We are not afraid of arrests," he said.
Imran Khan, while hitting out at the government over the economic crisis, said those who came to power through conspiracy had ruined the country. "The imported government has no roadmap for the country's progress," he added.
The PTI chairman said Finance Minister Ishaq Dar first threatened the International Monetary Fund (IMF) and now he had bowed down before the international lender.
"The leader of the political party stated that they had considered staging a statewide strike, but ultimately decided against it due to concerns about causing further economic damage to the country. He stated that there were attempts to eliminate the PTI from the competition, so that someone from London could come and win.
The leader claimed that the PTI's followers and members were facing retaliation and expressed their bravery in not being afraid of arrest. He also highlighted that only the provinces of Punjab and Khyber Pakhtunkhwa made contributions to the National Finance Commission award."
Watch here
Earlier today, Imran Khan lashed out at the government after authorities demolished street vendor carts, provided during his rule under the Ehsaas Rehriban initiative, in I-10 sector of the federal capital.
The PTI chief took to Twitter to share a slew of photos showing dismantled carts and the products of vendors scattered on the roadside after what appeared to be an anti-encroachment operation.
"At a time of rising inflation and unemployment, this imported government showed its callousness again by demolishing street vendor carts in Islamabad's I-10 sector, provided by our government under the Ehsaas Rehriban program."
Calling it a "condemnable inhumane act," the former premier claimed that the government had deliberately targeted the poor and vulnerable segment of society.
At a time of rising inflation & unemployment this Imported Govt showed its callousness again by demolishing street vendor carts in Islamabad's I 10 sector provided by our Govt under Ehsaas Rehriban prog. Condemnable inhumane act deliberately targeting the poor & vulnerable. pic.twitter.com/D68h2hVqqk

— Imran Khan (@ImranKhanPTI) February 4, 2023
Last year, the PTI-led government launched the Ehsaas Rehribaan initiative, which aimed to bring poor and small entrepreneurs into the economic mainstream by creating an enabling environment for them.The programme also aimed to contribute to climate change efforts by providing solar-powered carts to vendors.
The initiative had dismantled the monopoly of shopkeepers, who used to receive a handsome rent from the street vendors on a monthly basis, and provided protection to them from anti-encroachment operations. Before the project, their businesses were not secure, as the Capital Development Authority (CDA) used to conduct anti-encroachment operations time and again to clear the footpaths for smooth pedestrian movements.