Security forces kill two terrorists in North Waziristan shootout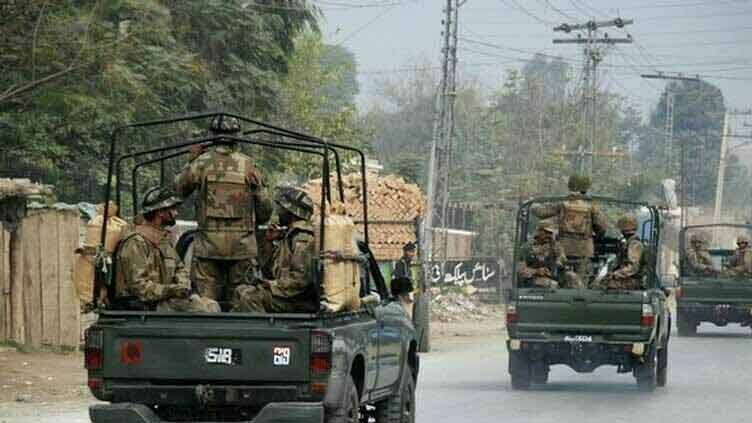 Pakistan
Security forces kill two terrorists in North Waziristan shootout
RAWALPINDI (Dunya News) – Security forces killed two terrorists during a gun battle in North Waziristan district of Khyber Pakhtunkhwa, the military's media wing said in a statement on Friday.
The Inter Services Public Relations (ISPR) said the intense exchange of fire took place between the security forces and terrorists in Esham where two militants were killed. The ISPR further said the killed terrorists were involved in attacks on security forces. Weapons and ammunition were recovered from their possession, it added.
The Pakistan Army has reaffirmed its resolve to weed out terrorism from the country. It is recalled that Pakistan has sacrificed more than 87,000 lives, including personnel of armed forces, police and citizens, in fight against terrorism.
On Monday, more than 100 people, most of them police officials, were martyred and many others injured in a terrorist attack on a mosque in the Peshawar Police Lines, making it one of the deadliest attacks on security forces in the country. A suicide bomber, who managed to enter the red zone in the guise of a police official, blew himself up in the mosque. The blast was so powerful that a part of the mosque caved in, trapping several people under the rubble.
Khyber Pakhtunkhwa caretaker Chief Minister Azam Khan formed a joint investigation team (JIT) to probe the incident.
Read More: Caretaker KP CM forms blast JIT, resolves to hold timely by-elections
On Jan 31, Chief of Army Staff (COAS) Gen Syed Asim Munir presided over the 255th Corps Commanders' Conference held at the General Headquarters (GHQ). The top commanders of the Pakistan Army paid rich tributes to the martyrs of the mosque blast and vowed that the perpetrators would be brought to exemplary justice.
On the occasion, the COAS emphasised that such immoral and cowardly acts could not shake the resolve of the nation but rather reinvigorate their determination to succeed in the ongoing war against terror with zero tolerance for any terrorist entity.