Fawad sees no future of Zardari, Nawaz in politics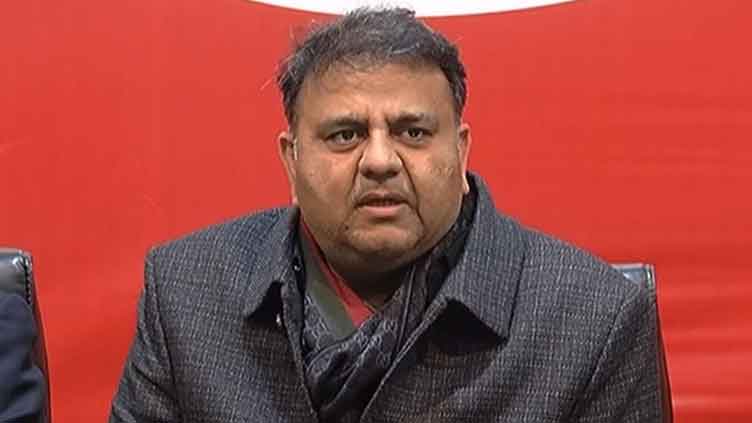 Pakistan
Fawad sees no future of Zardari, Nawaz in politics
LAHORE (Dunya News) – Pakistan Tehreek-e-Insaf (PTI) senior leader Fawad Chaudhry said on Thursday there was no future of Pakistan Muslim League-Nawaz (PML-N) supremo Nawaz Sharif and former president Asif Ali Zardari in politics.
Speaking to media, Mr Chaudhry took a swipe at PML-N Senior Vice President Maryam Nawaz and said the latter should have consulted a psychologist rather than undergoing surgery. Calling for the dire need of stability in the country, Mr Chaudhry alleged efforts were being made to destabilise it.
Recalling the PTI's tenure, Mr Chaudhry said, "During this period, not even a single event of bombing occurred in the country." The Imran-led government played a crucial role for settling the matters with Afghanistan."
Taking a swipe at PML-N senior leader Khawaja Asif, Mr Chaudhry said, "Mr Asif said Imran was responsible for bringing the terrorism in the country. His [Khawaja's] statements reflect that how serious he was".
Mr Chaudhry reiterated his demand for elections in Punjab and KP to be held within 90 days, saying, "If elections are not held in due time, then there will be a violation of the constitution."
Continuing to talk about the elections, he said, "If both the governors will not give the date for elections, then they can be tried under Article 6."
Read also: Gill fires a broadside at Maryam
PTI senior leader Shahbaz Gill launched a broadside at Pakistan Muslim League-Nawaz (PML-N) senior vice president Maryam Nawaz, claiming the latter was responsible for splitting her party.
Speaking to media, Mr Gill continued to take a jibe at Ms Nawaz, he said, "Maryam came from London to split the PTI, but PML-N leaders Shahid Khaqan Abbasi and Miftah Ismail were gearing up to leave the party. "I recommend that Ms Nawaz undergo additional surgeries."
Reiterating the demand for holding elections, Mr Gill said, "Time for all of us and Fawad Chaudhry to move forward, forgetting about what had happened. We had to give the masses an opportunity to elect the government of their choice."
Condemning the tragedy in Peshawar, Mr Gill said, "It was a deplorable incident."
Read also: Only elections can guarantee stability in country: Hammad Azhar

PTI leader Hammad Azhar said that it were only elections that could pave the way for country's stability as economic crisis was intertwined with political instability.
Talking to media, he said accusing people of treachery, arrests, and dilly-dallying on elections could not help bring stability in the country. "The country was suffering from sky-rocketing inflation and the rupee had witnessed devaluation of up to Rs90 against the US dollar", he added. The country, he said, would see inflation rising in the coming days.
He said a delegation of the IMF was on an official visit to the country and the IMF programme would conclude in June adding only the new government would initiate the new program afterwards. "You [PDM] have to see what costs lesser to the country; early elections or delayed elections", he added.