PTI picks Imran as candidate for 33 NA seats in by-poll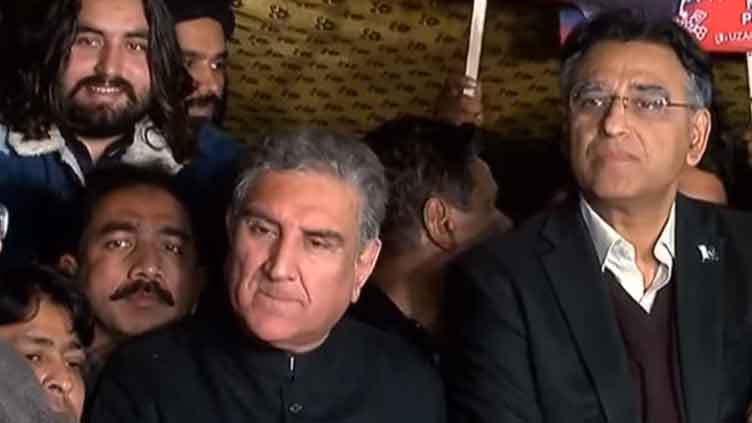 Pakistan
PTI picks Imran as candidate for 33 NA seats in by-poll
LAHORE (Dunya News) – Pakistan Tehreek-e-Insaf (PTI) vice president Shah Mahmood Qureshi said on Sunday Pakistan Tehreek-e-Insaf (PTI) Chairman Imran Khan will be the party's candidate for by-election on 33 NA seats.
Speaking to media in Lahore, Mr Qureshi said Mr Khan presided over the meeting of the core committee and parliamentary committee where the political and economic situation of the nation was discussed and four agreements were established.
"We vehemently condemn Mr Chaudhry's arrest", Mr Qureshi stated in reference to the arrest of PTI stalwart Fawad Chaudhry.
Meanwhile, PTI senior leader Asad Umar announced that a petition for the elections in Khyber Pakhtunkhwa will be filed tomorrow. Mr. Umar lamented, "The nation's security was threatened and there were worries that the country may become bankrupt".
Read also: Qureshi lashes out at govt for POL price hike

Earlier, PTI vice president Shah Mahmood Qureshi lambasted on Sunday the federal government for increasing petroleum prices to a significant level.
Mr Qureshi schooled the Pakistan Democratic Movement (PDM) government, saying, "The country was already facing severe economic challenges. The masses had to face more economic burden."
Continuing to take a dig at the coalition government, Mr Qureshi said, "For how long, the masses bear the incompetence of the rulers. Will the stakeholders continue to wait for further economic woes?"