Unabated condemnations pour in from PTI as Fawad Chaudhry arrested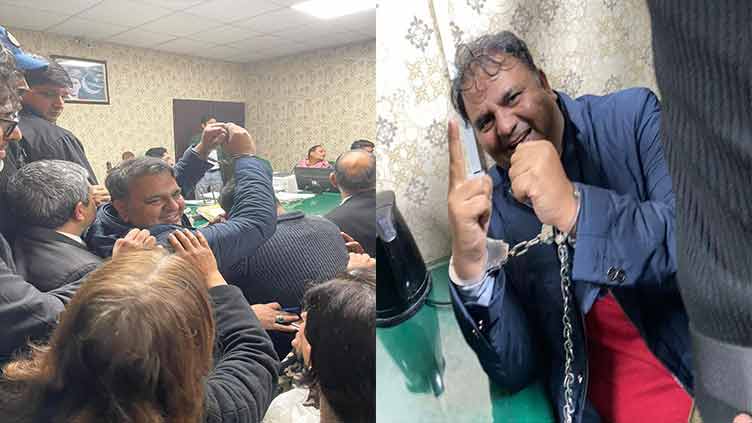 Pakistan
Unabated condemnations pour in from PTI as Fawad Chaudhry arrested
LAHORE (Web Desk) - Pakistan Tehreek-e-Insaf (PTI) senior vice president Fawad Chaudhry's arrest has sparked unabated condemnations by the PTI leaders including PTI chief Imran Khan, Shah Mehmood Qureshi, Asad Umar, Hammad Azhar, Farrukh Habib and others calling for his release.
The PTI had warned of countrywide protests against the arrest as the party sees the arrest as a sign of political victimization ahead of general elections in the country. Federal government and Punjab caretaker Chief Minister Mohsin Naqvi has recieved flak for "allowing" the arrest.
Know More: Details of case registered against Fawad Chaudhry surface
Earlier, the PTI workers gathered outside the PTI chairman s residence in Zaman Park to thwart his possible arrest.
— Shah Mahmood Qureshi (@SMQureshiPTI) January 25, 2023

— Asad Umar (@Asad_Umar) January 25, 2023

— Hammad Azhar (@Hammad_Azhar) January 25, 2023
— Farrukh Habib (@FarrukhHabibISF) January 25, 2023

— Dr. Yasmin Rashid (@Dr_YasminRashid) January 25, 2023

— Shireen Mazari (@ShireenMazari1) January 25, 2023

— Ali Muhammad Khan (@Ali_MuhammadPTI) January 25, 2023

— Sayed Z Bukhari (@sayedzbukhari) January 25, 2023