Details of case registered against Fawad Chaudhry surface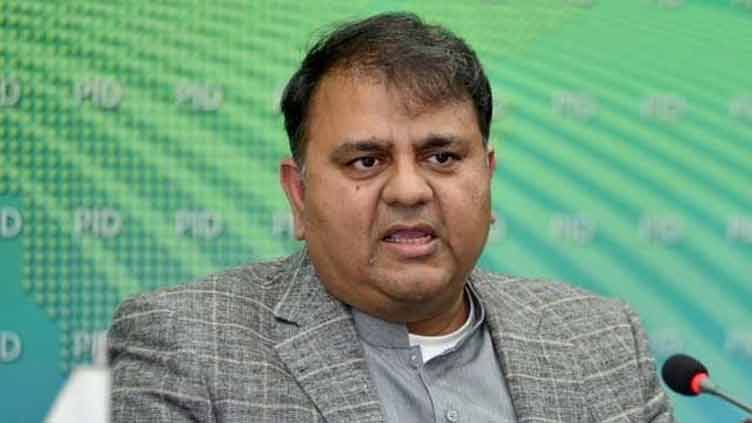 Pakistan
Details of case registered against Fawad Chaudhry surface
ISLAMABAD (Dunya News) – Pakistan Tehreek-e-Insaf leader and former information minister Fawad Chaudhry was arrested from his residence in Lahore by police in the wee hours of Wednesday.
His sudden arrest angered leaders of the PTI, including Hammad Azhar and Farrukh Habib, as they warned of launching countrywide protests if the location of Mr Chaudhry was not disclosed as they claimed that details about his arrest were not being shared.
Now, it has surfaced that the former information minister was arrested in a case registered by Election Commission of Pakistan (ECP) Secretary Umar Hameed at the Kohsar police station of the capital city.
The PTI leader, according to the First Information Report (FIR), has been booked under sections 153A, 506 and 124 A of the Penal Code of Pakistan for allegedly threatening the ECP and its members in a televised interview on Tuesday.
The FIR carries the excerpt of the former MNA's statement where in he alleged that the election commission had become a "Munshi" as the election commissioner signed the things like a clerk after they were sent to him by the government.
Mr Chaudhry said those who will be involved in injustice to the PTI will be pursued until they are punished. He said people should pursue the elements, who are deceiving public, to their houses. Expressing reservations on the appointments of some officials in ECP Punjab ahead of elections, he said if these appointments were not rolled back, "we warn that the election commission and its members will have to payback".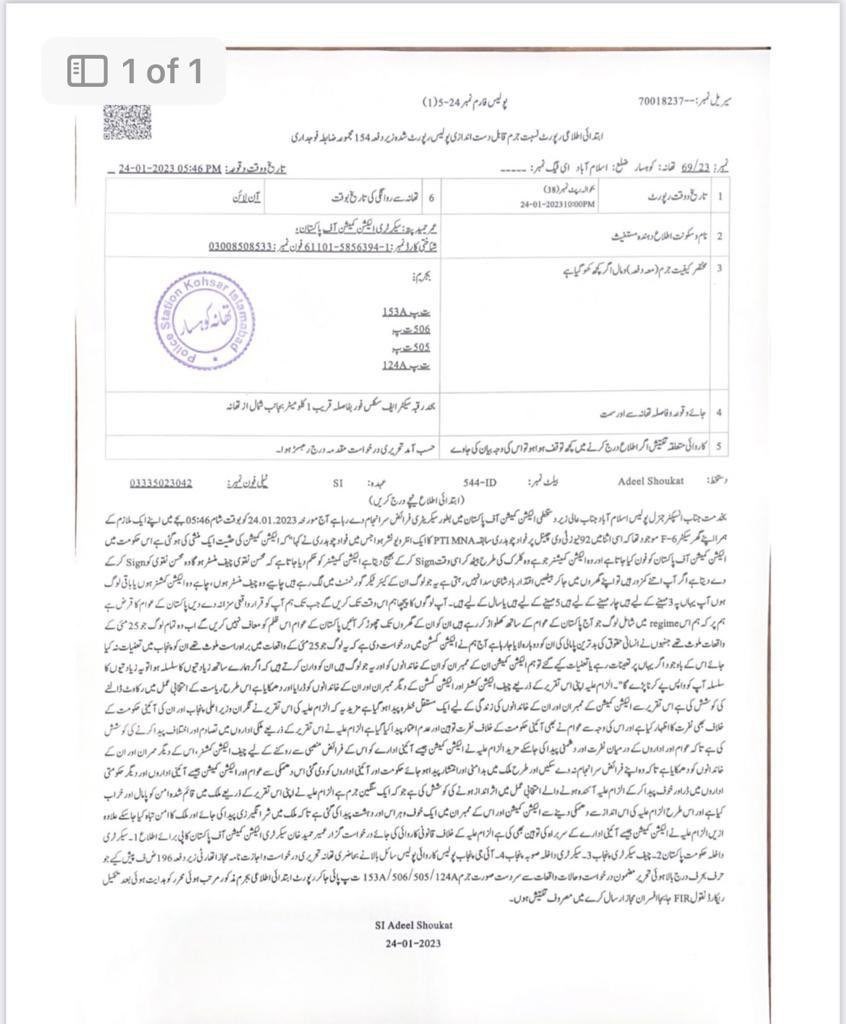 The complainant said Fawad Chaudhry had threatened the chief election commissioner, members of ECP and their families in his speech, which he described as an attempt to create hurdles in the electoral process.
"The speech has created a permanent threat for the ECP members and their families," he said, adding that the PTI leader had attempted to create difference between the government and ECP. It is a serious crime to influence the electoral process by issuing threats to the constitutional institutions, he said, adding that such statements could lead to chaos in the country.
In his speech outside Imran Khan s residence in Lahore, Fawad warned the Election Commission, its members and their families, according to the FIR.
Fawad said that those who become part of the caretaker government will be pursued until they are punished. He had said that the people sitting in the government would be pursued to their houses.
Meanwhile, the PTI leaders have expressed concerns over the arrest of Fawad Chaudhry and announced to move the court against it.
Earlier, thousands of PTI workers gathered outside PTI chief Imran Khan residence in Zaman Park, Lahore in the wee hours of Wednesday to protect their leader from possible arrest by the Punjab police