Judge threat case: Verdict reserved on Imran's exemption from appearing before court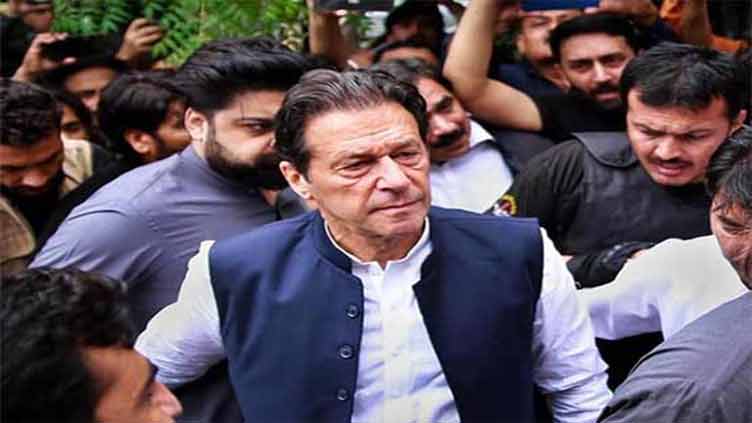 Pakistan
Judge threat case: Verdict reserved on Imran's exemption from appearing before court
ISLAMABAD (Dunya News) – Civil and Sessions Court on Tuesday reserved the verdict on Pakistan Tehreek-e-Insaf (PTI) chairman Imran Khan's plea for exemption from appearing before the court in a case against threatening District and Sessions Judge Zeba Chaudhry.
Judge Rana Mujahid Rahim heard the plea against Mr Khan where he was represented by lawyer Naeem Haider. Mr Haider filed a plea to exempt the PTI chairman from appearing before the court on medical grounds. On the other hand, special prosecutor Rizwan Abbasi presented before the court. Mr Abbasi contended that non-bailable warrants should be issued for Mr Khan over his non-appearance before the court.
The judge inquired the PTI lawyer where his credentials [to represent Mr Khan in the court] were. Mr Haider replied that Mr Khan got the notice last night. Later, the court reserved the verdict.
Earlier, the PTI chief had been summoned by the court on Jan 18 and Judge Rahim had issued a notice to Mr Khan after police submitted their charge sheet in the case to the court. A case had been lodged against the former PM over his remarks against the female judge where he warned Judge Zeba Chaudhry and police high-ups of dire consequences for what he called their "biased" attitude towards his party.
Later Mr Khan, in a reply to the Islamabad High Court (IHC), expressed deep regrets over his unintentional utterances and said that he could not think of speaking anything against the judiciary.
The IHC held back from framing charges against Mr Khan. The PTI chief also reached the female judge's court to apologize but she was not present on the day.