IHC holds back indictment as Khan willing to apologize to female judge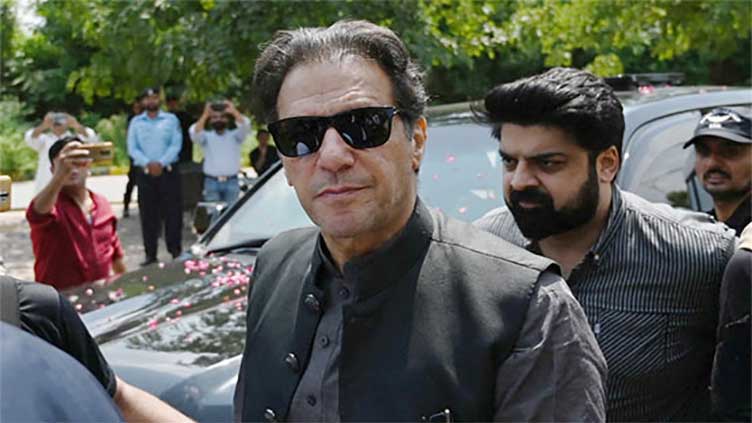 Pakistan
IHC holds back indictment as Khan willing to apologize to female judge
ISLAMABAD (Dunya News) – Islamabad High Court (IHC) holded back from framing charges against the Pakistan Tehreek-e-Insaf (PTI) Chairman Imran Khan in the case of threatening a female judge.
The contempt of court case against Imran Khan was heard by the Islamabad High Court (IHC) on Thursday.
During the hearing, the PTI Chairman prayed to the court to give him a chance to speak, he expressed willingness to apologize in-person to the female judge.
On which, the Chief Justice IHC remarked that If you have realized the mistake, the court appreciates it.
IHC stopped the indictment proceedings against Imran Khan and directed the PTI Chairman to submit an affidavit within a week.
Later, the court adjourned the hearing till October 3.
Talking to reporters after the hearing, Imran said that PTI's movement for "Haqeeqi Azaadi" (true freedom) was against mafias. "I don't want to fight Pakistan's judiciary."
Earlier, Imran was hounded by reporters as he made his way to court alongside party leaders Shah Mahmood Qureshi, Asad Umar and Shibli Faraz.
Dressed in a black shalwar kameez and grey waistcoat, smiled at reporters but did not respond to their questions as he made his way to the courtroom. Footage broadcast on television showed Faraz jostling for a spot behind Imran.
Earlier IHC issued a circular, in which it was stated that larger bench of the court will frame contempt of court charges against PTI Chairman Imran Khan for passing controversial remarks about Additional District and Sessions Judge Zeba Chaudhry during a rally in Islamabad on August 20.
A five-member larger bench of the IHC headed by Chief Justice Athar Minallah had decided to frame charges against Imran Khan in the contempt of court case during the last hearing on September 8. The five-member bench comprised of Justice Mohsin Akhtar Kayani, Justice Miangul Hassan Aurangzeb, Justice Tariq Mehmood Jahangir, and Justice Babar Sattar.