PTI members being intimidated, bribed to jump ship, alleges Imran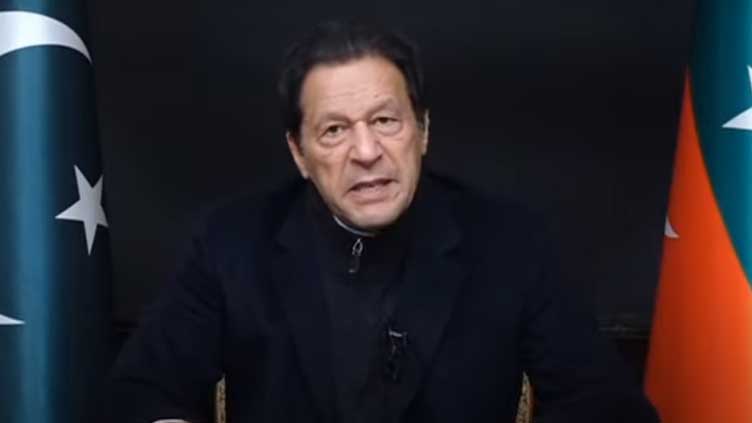 Pakistan
PTI members being intimidated, bribed, alleges Imran
LAHORE (Dunya News) – Pakistan Tehreek-e-Insaf (PTI) chairman and former prime minister Imran Khan said on Wednesday members of his party received threats and offers of money and were told that a red line had been drawn on him [Imran Khan] and he had no future.
Addressing the PTI parliamentary party leaders in Lahore on Wednesday, he said that after Almighty Allah, the people of Pakistan were the inheritors of the country and only the Higher Power could draw a red line. He said it had been decided to change the opinion of people by force, adding that "I don't know what kind of genius make such decisions."
The people were brutally tortured during the PTI's long march on May 25 last year, he said.
Turning his guns on the current ruler, the former PM went on to say that Pakistan was lagging behind the rest of the world due to rule by thieves for the past 30 years. He said the two families had looted the country and got NRO. They did not provide any roadmap to fix the country s economy, he added.
Mr Khan said, "Country's economy took nosedive soon after the Pakistan Democratic Movement (PDM) alliance got their Rs1,100 billion corruption cases withdrawn and they think Shehbaz Sharif is a genius."
Imported govt tramples constitution
Meanwhile, in his meeting with Punjab Chief Minister Parvez Elahi and Member National Assembly Hussain Elahi who called on him at Zaman Park, PTI chairman Imran Khan said that the federal government had turned blind in revenge politics and was violating the Constitution and law. Consultation was held on the ongoing political situation and vote of confidence.
Read more: Abducted friend of Moonis Elahi returns home after four days
On the occasion, Imran Khan, while strongly condemning the torture of Farhan Khan by declaring him an Indian agent, asked what was his fault. "This is a question mark for the entire nation," he said.
The PTI chairman also condemned inclusion of Chaudhry Parvez Elahi's family in the no-fly list and said the federal government had turned blind in revenge politics.
Know more: LHC extends stay on governor s order to denotify CM Elahi for another day
The PTI chairman went on to say that conspiracy of the federation in Punjab would fail, adding that the members of his party and Pakistan Muslim Leeague-Quaid (PML-Q) were united and the federal government would fail in its attempts.
Meanwhile, Parvez Elahi said he did not believe in politics of revenge, be it torture of Farhan Khan or any conspiracy of Shehbaz Sharif and Rana Sanaullah.