Ruckus mars Punjab Assembly session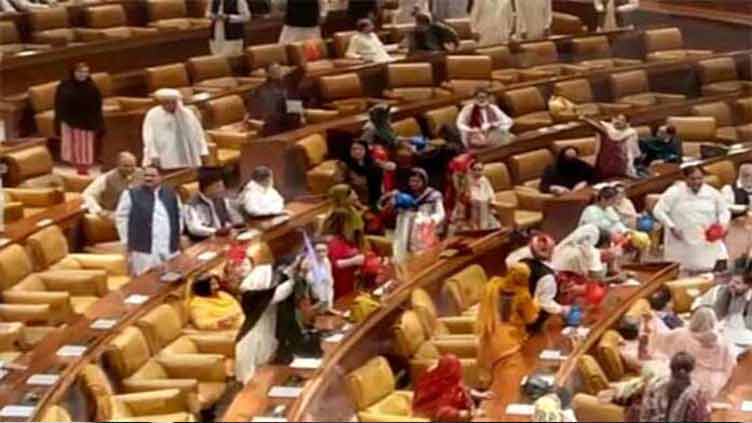 Pakistan
Ruckus mars Punjab Assembly session
LAHORE (Dunya News) - Opposition in the Punjab Assembly (PA) on Monday turned the house into ruckus as the assembly session did not take up the agenda of the vote of confidence to be obtained by Punjab Chief Minister (CM) Parvez Elahi.
The opposition tore the copies of the agenda, and surrounded PA Speaker Sibtain Khan s podium at one time prompting the ruling coalition s members to leave their seats and chant slogans against Interior Minister Rana Sanaullah and PM s Special Assistant Atta Ullah Tarar. PTI MPA Rana Shehbaz said, "Mr Tarar should be arrsted as he is wanted by PA s privilege committee". Amid all the ruckus, the assembly session also managed to pass 21 bills.
Read Also: CM Elahi reiterates support for Imran Khan
PML-N s Rana Mashood Ahmad said cabinet was not present in the house and the PA session was in the violation of the Lahore High Court s orders. "We will not let an illegal session continue its proceedings", he added.
Speaker replied that as the case was still being debated in the court, and the court had suspened Punjab Governor Baligh ur Rehman s notification as well, so, how did it render the PA session unlawful. "The PA will ask the CM to obatin the trust vote when the right time comes", he added.
Don t Miss: Will take vote of confidence at will: Asad Umar
On the other hand, PTI leader Raja Basharat said federal ministers must show their performance [rather than chanting slogans]. "Whether the vote of confidence is obtained today or on another day, the opposition will not succeed", he added. The case regarding the matter, he said, was still active in the LHC.
The session has been adjourned till 2pm on Jan 10.
Know More: Will wait for Jan 11 even if CM Elahi evades trust vote; Azma Bukhari