Nod of powers that be key element for snap polls, says Imran Khan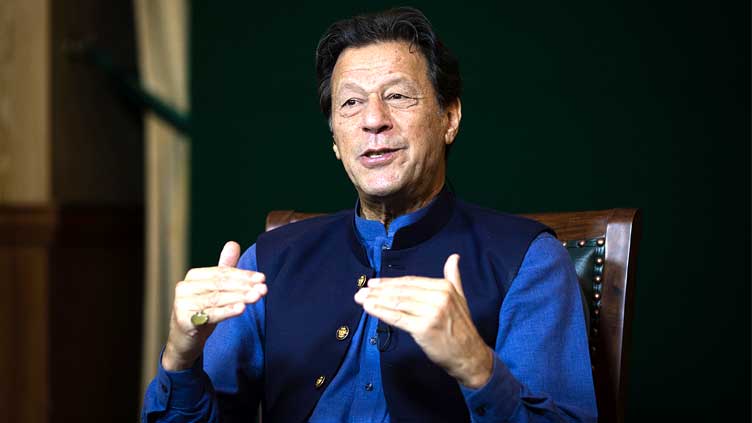 Pakistan
'Establishment's willingness' key to snap polls, says Imran Khan
LAHORE (Dunya News) – Pakistan Tehreek-e-Insaf (PTI) supremo Imran Khan said on Wednesday the willingness of the "seat of power" was vital for ensuring early elections in the country.
Speaking to a select group of journalists at his Zaman Park residence in Lahore, the PTI chief claimed that he was not in contact with the Establishment for now, and also warned the government of reaction if any "political engineering" would be done in the upcoming elections.

Also Read: PTI to oppose plans of imposing technocratic govt, says Fawad
The deposed premier took a jibe at the ruling Pakistan Democratic Movement (PDM), saying the PDM had become a "drawing room" party, adding that they came into power just to get "NRO-2".
Accusing ex-COAS Gen Bajwa of toppling his government, Mr Khan said "Bajwa did injustice to the PTI and now due to him the country is on the verge of default." According to him, Bajwa was not bothered about politicians corruption, that's why he barred me from taking any strict action against them.
Earlier, PTI Vice Chairman Shah Mahmood Qureshi said on Wednesday Bilawal Bhutto-Zardari could not invite the PTI members to the assembly as it was the prerogative of the prime minister. In a statement, the PTI stalwart said his party was ready to join the assembly proceedings but the government was not serious and not giving the dates of elections.

While responding to the question pertaining to communication with the Establishment, he claimed that "it has gone neutral now, so there are no links with it."

Bilawal Bhutto while addressing a gathering in Garhi Khuda Bakhsh held to mark the 15th death anniversary of former prime minister Benazir Bhutto, asked the PTI chief to return to parliament as neither he nor his party "could bear" what's coming to them.

Censuring Imran Khan, Bilawal said it was the final warning to the puppet - a clear reference to the PTI chief - to return to parliament and join the NAB and elections reforms. The PPP chairman said that he did not want the National Accountability Bureau (NAB) to be used against Imran Khan. "Therefore, you [Imran] should come back to parliament. Otherwise, we will not be in a position to prevent them from doing what they do," he warned.

Reacting to Bilawal s remarks against PTI and Imran Khan, senior leader Fawad Chaudhry called the PPP leaders "the puppets of the Establishment".
Taking to Twitter, the PTI leader said, "The puppets of the Establishment set up a farce at the mausoleum of Benazir Bhutto today."

"Zardari and his son dealt such a deep blow to Benazir s philosophy that her assassins could not eliminate Bhutto but they managed to fulfill the mission of Benazir s adversaries by abolishing the federal status of the PPP," he tweeted.