SCO members vow to continue efforts to maintain peace, security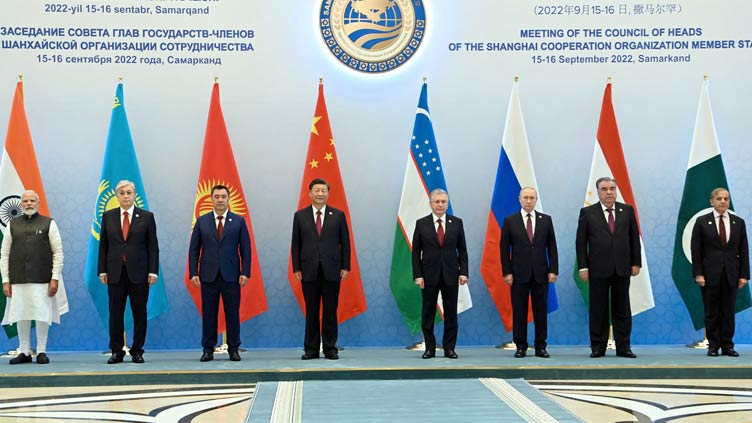 Pakistan
The SCO countries proposed to respect each country's rights.
SAMARKAND (Dunya News) - Leaders of the Shanghai Cooperation Organization (SCO) member states have signed and released the main document of the summit — the Samarkand Declaration of the Council of Heads of State of the SCO.
Noting that the world is facing multiple challenges and threats toward a new era of great change and development, the given declaration introduces various approaches to ensuring regional stability, sustainable economic development, strengthening of transport and communication ties, aiming to build a more representative, democratic and just multipolar international order.
The SCO countries proposed to respect each country s rights to choose their own political, economic and social development paths, and stressed that the principle of respecting each country s national sovereignty, independence, territorial integrity, equality and mutual benefit, without interference on internal affairs or use of force is the base of sustainable development of international relations.
The member countries will continue strengthening the SCO s effort to maintain peace and security, and deepen the relations between member countries through political and diplomatic means in order to tackle international and regional conflicts.
The SCO countries condemned terrorist acts worldwide and intend to eliminate conditions that could support terrorism, separatism and extremism.
SCO countries firmly oppose militarization in the fields of information and communication technology, and support the establishment of the regulation, principle and norm in this field under the country s act of responsibility.
Speaking on continued nuclear disarmament in the world, SCO countries, as state parties of the Treaty on the Non-Proliferation of Nuclear Weapons, will keep balancing and promoting all principles of the treaty, aiming to enhance cooperation on peaceful use of nuclear energy.
All member countries supported enhancing legislative institutions connections between countries to exchange experience in governance.
Member countries proposed to carry out regional economic cooperation in various fields and create conditions for trade and investment to achieve the free flow of commodity, capital, service and technology.
SCO countries also passed the resolution on establishing task forces of innovation, entrepreneurship, poverty reduction and traditional medicine.
The 22nd Meeting of the Council of Heads of State of the SCO also released a number of statements and documents on safeguarding global food security, international energy security, addressing climate change, and maintaining a secure, stable and diversified supply chain.