ECP must reveal funding details of all political parties: Fawad Ch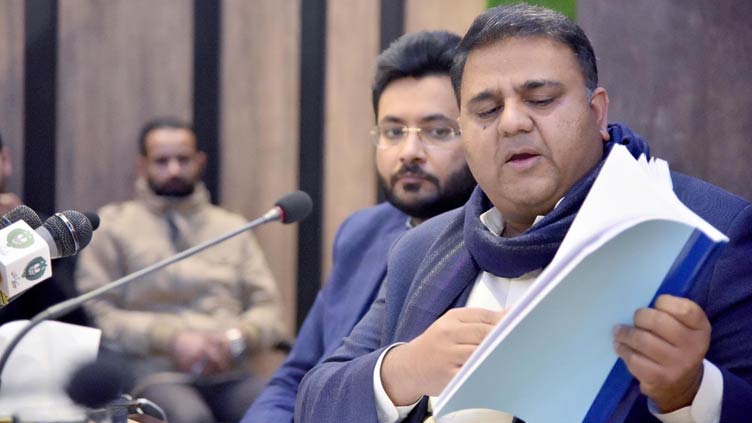 Pakistan
ECP must reveal funding details of all political parties
ISLAMABAD (Dunya News) – Federal Minister for Information and Broadcasting Fawad Chaudhry said on Tuesday that Election Commission of Pakistan (ECP) must reveal funding details of all political parties.
Addressing a press conference after federal cabinet meeting on Tuesday, he said that workers from all over the world are funding for the ruling Pakistan Tehreek-e-Insaf (PTI), while the opposition s hopes have been dashed.
"PTI s funding system is legal and if people trust anyone that is Imran Khan," he said.
Fawad Ch went on to say that the ECP should reveal details regarding funding of all political parties, adding that former prime minister Nawaz Sharif used the party s account for money laundering.
Talking about the Health Card programme, he said this initiative is being launched gradually in Punjab, while the entire population of Khyber Pakhtunkhwa has already been provided this facility. He said all members of a family registered in NADRA record can get treatment up to one million rupees from all government and designated private hospitals.
He said this facility is available to admitted patients only. He said Punjab is going to contribute 400 billion rupees for this programme and Sindh Government should also play its due role to provide quality health facilities to the people of Sindh.
Fawad Chaudhry said prices of essential items are decreasing, which is a good omen. He said the cabinet also approved tabling of Finance (Supplementary) Bill, 2021 in the National Assembly.
He said it approved an agreement between China-Pakistan Economic Corridor Authority and Chinese Ministry of Environment to provide 3,000 solar power generations to the people of Gwadar, who are facing the problem of electricity.
Regarding foreign funding case in ECP, Fawad Chaudhry said it is the Pakistan Tehreek-e-Insaf, which has an elaborate system of funding and accounting. He demanded of the ECP that a comparison of all political parties should be presented so that people can know which party has a complete record and which one is missing this.
Speaking on the occasion the Minister of State for Information and Broadcasting Farrukh Habib said Pakistan Muslim League-Nawaz and the Pakistan People s Party run unverifiable accounts, which is a sheer violation of law.
Earlier today, talking to media outside ECP, Minister for Planning and Development, Asad Umar had assured to extend full cooperation to Election Commission of Pakistan in foreign funding case.
He said PTI has collected funds in the most transparent manner and the nation has full confidence on the leadership of Prime Minister Imran Khan.
The minister, however, said the secret accounts of PML-N and the PPP are coming to the surface.
Speaking on the occasion, Minister of State for Information and Broadcasting, Farrukh Habib said the scrutiny committees should immediately submit their reports regarding PML (N) and the PPP to Election Commission.