Sindh Local Government (Amendment) Bill-2021 passed amid opposition's rumpus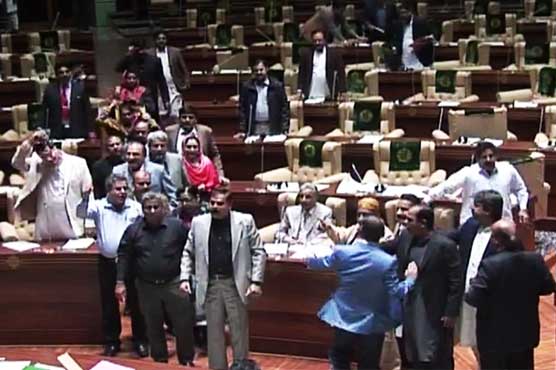 Pakistan
Opposition members tore the copies of the agenda
KARACHI (Dunya News) – Sindh Assembly on Saturday approved Sindh Local Government (Amendment) Bill-2021 amid opposition's ruckus.
The amended bill of the new LG system was tabled in the Sindh Assembly by provincial LG minister Nasir Hussain Shah. As the session was marred with sloganeering, the legislators from the government managed to pass the Sindh Local Government (Amendment) Bill-2021.
Opposition members tore the copies of the agenda when the house gave clause-by-clause approval to the bill.
According to the provisions of the amendment bill, towns will be set up in 6 divisional headquarters of Sindh including Karachi. The chairmen of towns and municipal committees will be elected through a show of hands. Clause to hold election of chairpersons of local body councils by secret ballot was withdrawn.
In the Local Government Amendment Bill, local body councils have been given powers in the affairs of 9 provincial departments and local government councils will also be included in the affairs of Sindh Police.
According to the bill, the SSP will be bound to liaise with the concerned local body chairman and police officers will report to the local council on police matters and law and order. Local government representatives will not have the power in prosecution, police administration and criminal cases.
Sindh CM
On Thursday, Sindh Chief Minister Syed Murad Ali Shah said that the Sindh Local Government (Amendment) Bill, 2021 will empower the people of Karachi, adding that his government was still open to incorporating justified inputs of all political stakeholders to make the law better.
The chief minister said that his government had discussed the proposed amendments with the opposition parties before bringing them into the assembly. "It was the opposition's proposal that towns have been created in the city in place of DMCs and now they have started playing politics," he said.
He said that the educational institutions and health facilities have been taken away from the local bodies in the public interest because they have failed to run them properly, but in their place, we have given them all the municipal functions and representation in other civic agencies.
He further said the government would remove a clause from the bill that allowed "any person" to be elected as mayor or deputy mayor without contesting the local government elections.
Governor Sindh
Earlier, Sindh Governor Imran Ismail had refused to approve the Sindh Local Government (Amendment) Bill 2021 and returned it to the Sindh Assembly for reconsideration.
"I have returned the bill and asked them [Sindh Assembly] to fix it before the final nod," said Ismail. "The bill in fact negates the spirit of democracy and it finally brings the local governments under the provincial government with no authority or power and disallows every source which could generate resources for the LG representatives. How a democratic party or system can allow this model to get in place for the local governments?"