Published On 27 September,2021 01:54 pm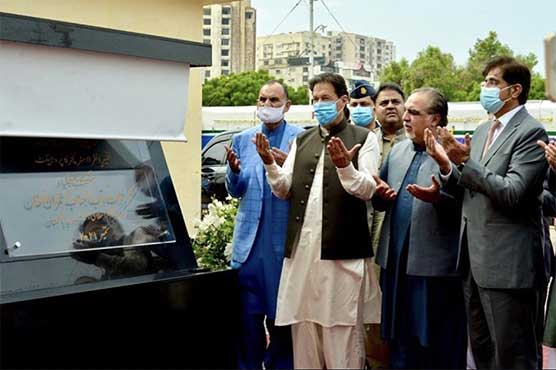 43 kilometers long Karachi Circular Railway project is expected to be completed in two years.
KARACHI (Dunya News) – Prime Minister Imran Khan has stressed that federal and Sindh government have to work together for betterment of Karachi.
PM Imran, while addressing a ceremony in connection to groundbreaking of KCR project, said that all sides have to set aside political differences for Karachi and urged Chief Minister of Sindh Syed Murad Ali Shah to reconsider his stance on Bundal Island project.
"All this is inter- connected. Some things federal government cannot do alone while others Sindh government cannot do solely without center's support," the prime minister said.
Imran Khan said that whole country is affected if Karachi is facing any issue and warned that the problems of the port city can spiral out of control if not handled timely.
He said water shortage is a big challenge of Karachi and K-4 project will help resolve this issue.
PM said Karachi is economic hub of the country and we have to design more projects for the city to cope with growing population and transport issues.
The prime minister said major cities were engine of growth for any country like London had been for UK, New York for US and Karachi for Pakistan.
He said Karachi was about to take off in 80s when it was hit by riots, thus impacting the whole country.
PM Imran said in September, both the federal and Sindh governments announced Karachi Transformation Plan for uplift of the city.
He believed that Karachi could attract investment from across the world but the provision of basic infrastructure was prerequisite like public transport. He said the required investment was not made on the public transport sector in Karachi.
Prime Minister Imran Khan is on a day long visit to Karachi to perform groundbreaking of the Karachi Circular Railway (KCR) project.
The 250 billion rupees worth 43 kilometers long Karachi Circular Railway project is expected to be completed in three years. The
The thirty stations of modern circular railway will link residential, industrial and office areas. This will not only reduce the flow of traffic in Karachi but also facilitate the passengers.
---
KCR PM's gift to Karachi people: Farrukh

---
Minister of State for Information and Broadcasting Farrukh Habib said on Monday that Karachi Circular Railway was a gift from Prime Minister Imran Khan to the people of Karachi.
The project will cost over Rs200 billion, the minister said adding that the train track will have 43 km length and there will be 30 stations.
---
PPP robbing Sindh's people for last several decades: Gill
---
Special Assistant to the Prime Minister on Political Communication Dr Shahbaz Gill on Monday said Pakistan Peoples Party (PPP) has been robbing the rights of Sindhi's people for the last several decades.
In a tweet, he said provision of transport, roads, health and education was sole responsibility of the provincial government after the 18th constitutional amendment which did not fulfill so far.
Gill said PPP was still looting the national wealth while Imran Khan was serving the people of Karachi through repairing of roads of Karachi and Circular Railway.