Published On 10 July,2021 05:18 pm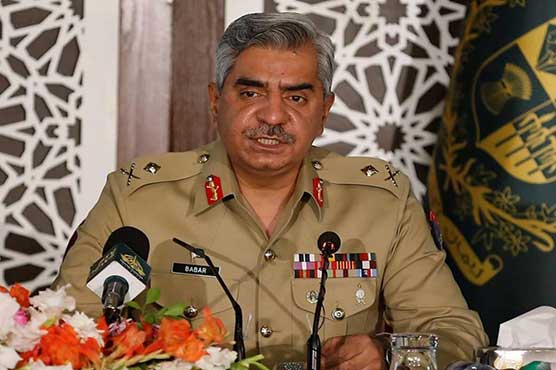 DG ISPR Maj Gen Babar Iftikhar said the US withdrawal from Afghanistan was a bit hasty
RAWALPINDI (Dunya News) – Inter-Services Public Relations (ISPR) Director General Major General Babar Iftikhar on Saturday said that gun (force) was not the solution to resolve Afghan crisis as through gun it could not be decided since the past two decades and it was not an option in the future and the spillover effect after civil war may come to Pakistan that had come earlier and we were very well aware of that and took many measures to cope with the situation.
Speaking to a private television channel on Saturday, he said that Pakistan will not allow its land to be used against anyone, adding that the civil war in Afghanistan won't benefit anyone.
Maj Gen Babar Iftikhar said there are many aspects of Afghan peace process where it should be understood that Pakistan was only a facilitator and not a guarantor in the process. He said Pakistan sincerely tried to advance the peace process, adding that Pakistan s role in advancing the peace process remained key. "It is up to the Afghan people to decide how to proceed," he said and added Pakistan has been a facilitator in the peace process.
"We have been and will continue to work for peace and some news were also coming from Afghanistan that the Taliban are advancing at a fast pace and the US Army has left Afghanistan up to great extent.," he said.
The DG ISPR went on to say that the United States has spent a lot of money on training the Afghan army and it is yet to be seen how the Afghan National Army will face and counter the ongoing situation. He said the Afghan army's progress at the moment is not significant as so far, the Taliban have made significant progress.
Maj Gen Babar Iftikhar further said billions were spent on the training of Afghan army and they also have their own air force, adding that Afghan army has its own capacity to fight. The decision of the government in Afghanistan is to be made by the people there.
"In past 20 years, US Army trained Afghan National Army that has strength, capability and its own Air force with presence on ground," adding, the Afghan National Army was trained, equipped and had special and air forces. "Trillions of dollars have been spent on them and as a professional soldier I believe that they should be able to fight this onslaught as a professional force," he added.
He said: "90 percent fence has been erected on 2611 km long border and security has been deployed on the border, adding the spillover can come to Pakistan if there is a civil war in Afghanistan. We have already made preparations citing possibilities of civil war in Afghanistan."
Replying to another query on impending Afghan Refugees influx in case of any civil war, Major General Babar Iftikhar said the Interior Ministry has made contingency planning to manage refugee inflow in case of violence whereas the international community and regional stakeholders would have to decide the Afghan issue.
He noted that Pakistan's approach was very clear as it remain committed to never let its soil to be used against anybody . Unfortunately, there has been no serious effort made by the international and Afghan forces to make air tight control to contain terrorist activities against Pakistan, he noted.
"Pakistan has repeatedly made it clear that there is no favourite in Afghanistan and it s decision of Afghani people who would establish a government and how it would be run."
He said that all the stakeholders wanted the US to withdraw from Afghanistan responsibly, adding the US withdrawal from Afghanistan was a bit hasty. He also ruled out the possibility of allowing to use Pakistan s airbases to the US forces.