It is in US interest to remain engaged with Pakistan: FM Qureshi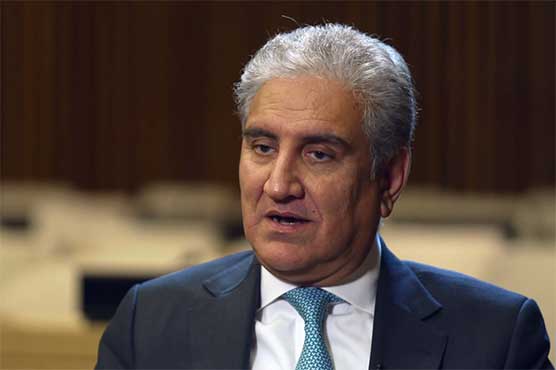 He said the world powers have agreed on a negotiated solution to the Afghan problem
ISLAMABAD (Dunya News) – Foreign Minister Shah Mahmood Qureshi on Thursday said that Pakistan is a friend of both the United States and China and it is in America s long term interest to remain engaged with Pakistan.
In his exclusive interview to Al-Jazeera, the foreign minister said that the world powers have agreed on a negotiated solution to the Afghan problem and Pakistan has played and will continue to play key role for peace in Afghanistan.
To a question regarding Israel-Palestine conflict, he termed the Israeli attacks on Gaza barbaric and said that the US response had been slow and the Biden administration could have saved many lives.
Qureshi went on to say that for the first time, Israeli government faced pressure from within the country, adding that Israel knew it was losing the media war. "I am happy with the ceasefire, I hope the ceasefire would hold on."
He said that the United States will have to prove that it believes in human rights.
Earlier, addressing a joint news conference along with UN General Assembly President Volkan Bozkir after talks in Islamabad on Thursday, the foreign minister called upon the United Nations to play its role for resolution of Palestine and Jammu and Kashmir disputes which are on the agenda of the Security Council for over seven decades.
He said there are similarities between Palestinian situation and that of Jammu and Kashmir, adding that the oppressed peoples in both the territories faced with the worst form of human rights violations are demanding their right to self-determination.
Qureshi categorically stated that Kashmir Dispute is a reality and nobody can remove it from the agenda of the UN Security Council.
The foreign minister said Pakistan expects the UN to continue to play its leadership role for the revival of peace process in the Middle East. He said the fire there can be extinguished through dialogue and a two state solution in accordance with the UN Security Council resolutions.
He said timely humanitarian assistance should also be provided to the Palestinians affected by the Israeli aggression.
"Pakistan has supported the Afghan reconciliation process and will continue to do so," Qureshi said and added Pakistan is supportive of Istanbul process and international conference that should take place at the earliest in Istanbul.