Published On 23 March,2021 05:40 pm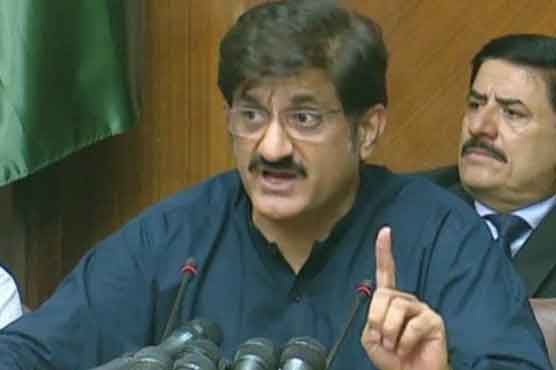 He said the third generation of PPP was continuing struggle to restore democracy.
HYDERABAD (Dunya News) – Sindh Chief Minister Syed Murad Ali Shah on Tuesday said that the third generation of Pakistan Peoples' Party (PPP) was continuing struggle to restore democracy.
Talking to media in Hyderabad on Tuesday, he said that the PPP cannot think of coming into power through back door.
Regarding by-elections on National Assembly constituency NA-249, the Sindh CM said that a joint candidate would be nominated, adding that the PPP has made preparations to bring in its candidate but trying to field a joint candidate of the Pakistan Democratic Movement (PDM).
Murad Ali Shah went on to say that the PPP was devising a strategy for the appearance of Pakistan Muslim League-Nawaz (PML-N) vice president Maryam Nawaz before NAB and the party leadership would make final will decide whether the party workers would accompany her [Maryam Nawaz] on her appearance or not.
The Sindh chief minister further said, "We were fully prepared for the long march, adding that whatever decisions should be taken in PDM should be taken by mutual understanding and PPP will decide in the meeting of CEC."
---
Bilawal says no such blood in our veins

---
On Monday, PPP Chairman Bilawal Bhutto Zardari while denying the accusations of being selected clarified that he had no such blood in his veins, alleging that there is a political family from Lahore with such background.
He said the long march should not have been delayed adding that our party was well prepared for the long march and our rooms in Rawalpindi were also booked.
He said 10 days before the Long March, the resignations had been linked to the Long March and the matter of resignations will be discussed in the CEC.
The PPP chairman said that some friends wanted to boycott the Senate and by-elections but the PDM did irreparable damage to the government on both fronts. Those who wanted us to stay out of the system, they proved wrong and should reconsider their position.
Answering a question, he said that Nawaz Sharif made demand for accountability of all today, we have been saying for three generations that everyone should be held accountable. We were trying to keep all parties united, if we do not stay united then only Imran Khan will benefit.
He said that the job of the opposition was to harm the government. There was an atmosphere of mistrust in the National and Punjab Assemblies, opposition should utilize this situation.
Bilawal said that we must give the government a tough time inside and outside Parliament. I will hold a separate press conference regarding PDM, he added.