Broadsheet could prove another Panama case, Sh Rasheed warns Maryam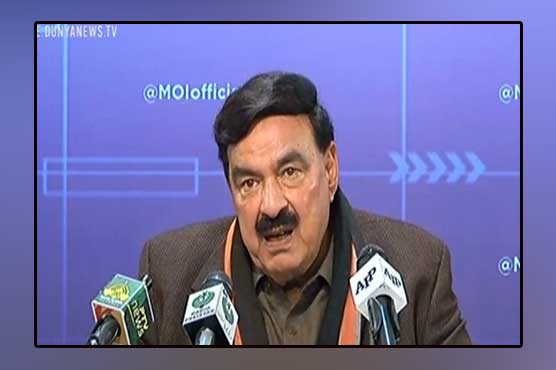 He said media itself was saying that there were not more than 3000 people in the protest
ISLAMABAD (Dunya News) – Minister for Interior Sheikh Rasheed Ahmed on Tuesday said that Pakistan Muslim League-Nawaz (PML-N) vice president Maryam Nawaz should carefully read the broadsheet as it could turn out to be Panama part two for her family.
Addressing a press conference in Islamabad on Tuesday, he congratulated the Police, Rangers and law enforcement institutions for maintaining law and order situation without creating hurdles in the way of PDM protest, adding that there was no hurdle in the Pakistan Democratic Movement's (PDM) protest and everyone has seen the result.
"Even the media itself was saying that there were not more than 3000 people in the protest," Sheikh Rasheed said and added there were many flags and leaders but there were no workers.
The minister said after today s failed show of PDM, the government also welcomes their long march that could end opposition s power-driven campaign.
Reacting to the statement of PDM chairman and Moulana Fazlur Rehman, Sheikh Rasheed said that the Jamiat Ulema-e-Islam-Fazl (JUI-F) chief was with former president General (r) Pervez Musharraf when the madrasa students picked up the gun and now he is instigating the students but no one came, adding that it was a Friday market for power hungry people.
He said that earlier they were speaking against the Pakistan Army, adding that those who speak immorally against the army will have to pay the price. He also thanked the Ulemas and Madrassa students from Islamabad who did not participate in PDM s protest.
Commenting on Broadsheet matter, he said Maryam Nawaz should read it carefully as it will prove another Panama case for her family.