Published On 11 December,2020 05:24 pm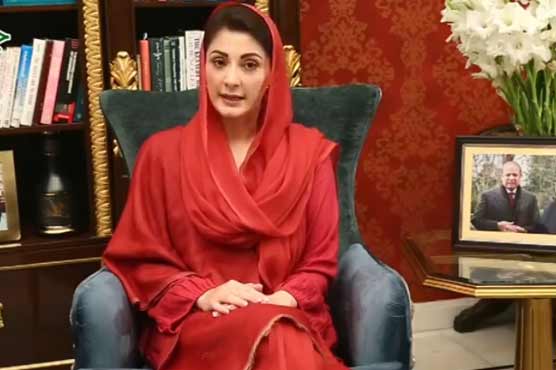 She said the way public have participated in PDM rallies so far by defeating govt is unprecedented.
LAHORE (Dunya News) – Pakistan Muslim League-Nawaz (PML-N) vice president Maryam Nawaz on Friday while hoping to have a massive turn out during the rally of Pakistan Democratic Movement (PDM) – an 11-party alliance of the opposition – said that the public will make the rally historic on December 13 by supporting truth and justice.
In her video message regarding the December 13 meeting of the PDM, she appealed the people to stand by truth and make a new history at the same place where the people stood together and passed the resolution of Pakistan.
The PML-N vice president said that December 13 is not just the day of rally but the day of decision and the decision would be for one s rights or to compromise with the current worst situation.
She further said that we would have to make decision against scourge of inflation, flour and sugar prices, expensive gas and electricity, paralyzed system of hospitals, expensive drugs, false cases, student scholarships and ban on freedom of expression.
Maryam Nawaz said that the way public have participated in PDM rallies so far by defeating government repression is unprecedented, adding that seal the verdict with your voice and participation and tell these fake rulers that the dark night of oppression is about to end, now a free morning is coming.
---
Revenge
---
Earlier today, the PML-N leader had criticized Prime Minister Imran Khan and said that don't take our revenge from the innocent people.
While reacting to the registration of a case against the owner of the hotel where she and other PML-N leaders had eaten food, Maryam Nawaz said that the incumbent government of Pakistan Tehreek-e-insaf (PTI) has crossed all the limits.
First, tent service and now hotel owner, the federation has lost its senses, she added.
The PML-N leader further said that the people of Lahore will come out of their houses on December 13 against such acts of the PTI government.
The reaction came after the local administration had registered a case against the hotel located at Lahore's Lakshmi Chowk where Maryam Nawaz had eaten mutton karahi. The owner was booked for violating standard operating procedures (SOPs) designated to prevent coronavirus spread.
Earlier, cases were lodged against PML-N leadership for violating coronavirus SOPs during minor rallies in Lahore ahead of December 13 public gathering.
Dozens of PML-N workers and leaders were nominated in separate cases at Ichhra, Gawalmandi and Lohari police stations.
The provisions regarding violation of SOPs and holding provocative speeches were included in the cases.