PPP workers burn govt offices, vehicles over alleged rigging in GB polls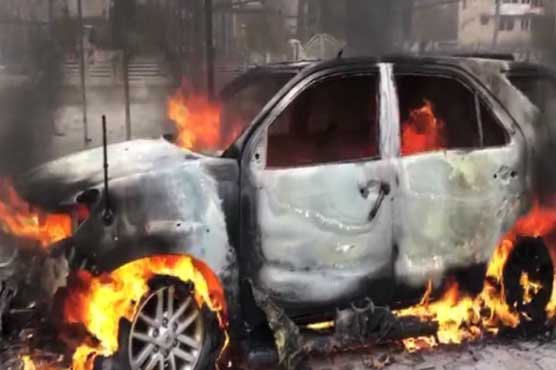 PPP workers burn govt offices, vehicles over alleged rigging in GB polls
GILGIT (Dunya News) – Pakistan Peoples Party (PPP) workers burnt the office of Forest Department and four vehicles in protest against alleged rigging in Gilgit-Baltistan elections. Protesters also pelted stones at a fire brigade vehicle. The situation in the area was tense.
A large contingent of police rushed to the spot to control the enraged PPP workers and charged with batons and aerial firing to control the situation.
On the other hand, the PPP leadership has strongly condemned the firing and shelling on the protesters. "Our workers have the right to peaceful protest against rigging in Gilgit-Baltistan," said a statement issued by Sherry Rehman. Shelling and firing on peaceful protesters is reprehensible.
Sherry Rehman in her statement said that PTI has gone blind in its greed for power. Those kept hostage the whole country for 126 days cannot not tolerate the peaceful protests of the PPP. She alleged that PTI workers conspired to create chaos by burning vehicles.
She alleged that the Chief Election Commissioner sides with the PTI. He is not conducting a forensic audit of the votes as per the agreement.
She said that those who closed the whole country on the basis of four constituencies were not conducting forensic audit of one constituency on our demand. We will not allow the rigged model of 2018 to run in Gilgit-Baltistan. The fraudulent government has now been exposed.
Senator Sherry Rehman warned if peace in Gilgit-Baltistan deteriorates, the Prime Minister will be responsible.
On the other hand, Information Secretary PPP Senator Maula Bakhsh Chandio has said that the violence against the protesters in Gilgit was shameful. Bullets and shelling on workers in Gilgit is the federal government s blind revenge. The results of the disputed Gilgit-Baltistan elections will be dire.
Maula Bakhsh Chandio said that who is being served by torturing the people in the sensitive area. Act responsibly and stop trying to play with fire. The agreement reached by the Chief Election Commissioner on Gilgit-Baltistan Constituency II should be fulfilled. Disclosure of results without forensic voting is evidence of fraud.
He said that the Chief Election Commissioner is not only biased, he has proved himself to be Imran Khan s tiger, this election cannot be transparent in any way.
PPP workers were peacefully protesting against the theft of election, but the federal government used violence to make matters worse.
Meanwhile, Federal Minister Shibli Faraz in his response said that after the defeat in the Gilgit-Baltistan election opposition should have known their political status. The frustration of the PDM leaders was palpable yesterday.
He said that NRO seeking PDM leaders are roaming pillar to post. Their rallies are a threat to the employment of the people, not to the government.