Last Updated On 13 December,2019 08:57 pm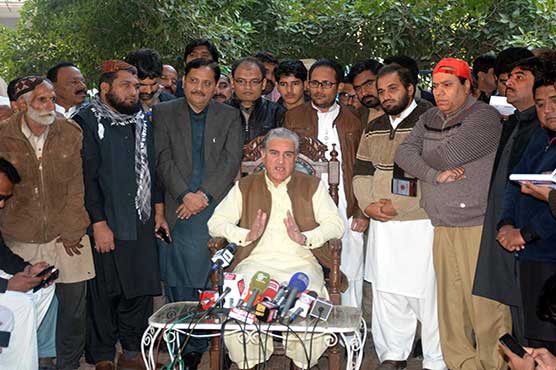 Intra-Afghan dialogue is imperative for creating enabling environment for successful Peace process
MULTAN (Dunya News) – Foreign Minister Shah Mahmood Qureshi on Friday said that Pakistan would benefit from its recent agreement with Switzerland.
Talking to media in Multan on Friday, he said that Pakistan wants peace in Afghanistan and fully supports Afghan peace process.
The foreign minister said that Intra-Afghan dialogue is imperative for creating enabling environment for successful of Afghan Peace Process.
Responding to a question regarding approval of citizenship bill in India, the Foreign Minister said it deprived rights of Muslim population in India.
Discussing Kashmir issue, he asked India to stop brutalities in the held valley. He said US congress discussed Kashmir issue at great length and now the entire world is aware about happenings in Kashmir.
To another question, Shah Mehmood Qureshi said Islamophobia has harmed soft image of Islam.
Talking to the US Special Envoy on Afghanistan Zalmay Khalilzad who called on him at the Foreign Office in Islamabad on Friday, Foreign Minister Shah Mahmood Qureshi has assured that Pakistan will continue to sincerely play the role of facilitator in the Afghan peace process.
The Foreign Minister said peace in Afghanistan is important for peace and stability in the region. He reiterated Pakistan s stance that there is no military solution to the Afghan conflict.
The US envoy apprised the Foreign Minister about the details of the US-Taliban talks.
Zalmay Khalilzad appreciated Pakistan s role for peace in Afghanistan.
On Thursday, the Swiss Parliament granted Pakistan, among eighteen countries, access to automatic exchange of its financial data starting from 2021.
The development by Switzerland would authorize Pakistan to learn about how much money Pakistani citizens have in Swiss banks.
As per swissinfo.ch, a news platform produced by the Swiss Broadcasting Corporation, the Swiss parliament approved a new batch of countries for automatic exchange of financial information (AEOI).
This means that Switzerland will provide details of bank accounts held by their citizens (or those with a fiscal residence in Switzerland). Meanwhile, in return, Switzerland will receive information on banking details of accounts held by Swiss citizens/residents in these partner countries.
The 18 countries are Albania, Azerbaijan, Brunei, Dominica, Ghana, Kazakhstan, Lebanon, Macau, Maldives, Nigeria, Niue, Oman, Pakistan, Peru, Samoa, Saint Martin, Trinidad and Tobago and Vanuatu.
Currently, Switzerland receives financial data from 75 countries and shares data with 63 countries.
Recently the Swiss authorities revealed that they had provided details of around 3.1 million bank accounts held by foreigners or those with a fiscal residence abroad, to their countries of origin or residence.