Last Updated On 24 November,2019 03:50 pm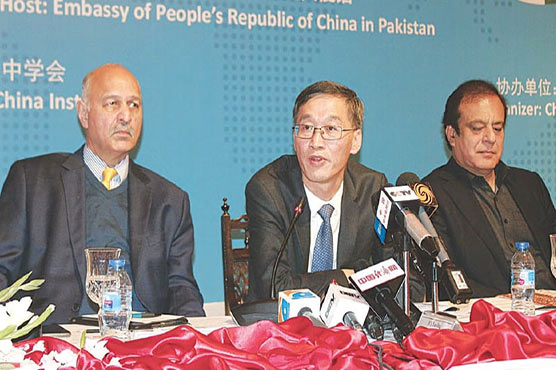 He spoke to the 5th CPEC Media Forum in Islamabad, and expressed astonishment over the statement.
(Web Desk) – Chinese Ambassador to Pakistan Yao Jing, while rejecting U.S. Principal Deputy Assistant Secretary of State for South and Central Asia Alice Wells' statement about the China-Pakistan Economic Corridor (CPEC), has affirmed that Pakistan-China relations have been based on win-win cooperation and are mutually beneficial for both nations.
While addressing the 5th CPEC Media Forum in Islamabad, he expressed astonishment over Alice Wells' statement of higher tariff in power plants, established under the corridor.
"In 2013, when the Chinese companies were establishing power plants in Pakistan, where was the U.S.?" the ambassador questioned.
"Why the U.S. had not invested in Pakistan's power sector despite knowing that Pakistan was in dire need of electricity?" he asked.
He said China has always come forward to assist Pakistan in need without any political or government differences.
"If Pakistan is in need, China will never ask it to repay its loans in time, whereas, the International Monetary Fund (IMF) which is mainly governed by the West is strict in its repayment system.
Under the CPEC, he said China would provide industrial cooperation to Pakistan and for this purpose over two dozen leading Chinese and Pakistani manufacturers and industrialists were engaged to boost production and exports of Pakistan.
"Media is a major vehicle of information and platform of interaction […] media from both Pakistan and China have already been playing role in promoting state-to-state relations."
Ambassador Yao said he was "shocked and surprised" at Ms Wells' speech which "fully exposes her ignorance of Pakistan-China relations".
He categorically rejected her statement of higher tariff in power plants, established under CPEC, saying that he himself had earlier briefed her about the tariff structure of these power plants and told that the tariff structure was the lowest among all the countries to whom the Chinese companies provide electricity.
With respect to the US' allegation of corruption in CPEC projects, Yao Jing said it was easy to allege anyone without having evidences.
He said that he himself had discussed this matter with a number of concerned stakeholders including National Accountability Bureau (NAB), but could not find any evidence of corruption in any CPEC project.
"My dear American colleague, before alleging anyone, please be careful that you have enough evidences about certain allegations," he added.
With regard to the Main Line (ML-1) railway project that is to be executed under CPEC, the Chinese envoy clarified that the project cost is around $9 billion, however it is only an estimation and not the final cost.
"The real cost of the project will be finalised in the second stage of determining financial package of the project," he said.
He also reacted over the blame of providing less employment opportunities to Pakistani workers in CPEC projects, saying that so far over 75,000 Pakistani workers had been given job opportunities in the projects and that by [the year] 2030, around 2.3 million jobs are expected to be created under CPEC projects.
"I would be happier to see more investment coming from the United States in Pakistan."
Yao Jing said China was determined to build capacities of Pakistani businessmen and industrialists to boost productivity in the country which would ultimately help in increasing the exports of Pakistan.
---
U.S. alarms Pakistan over CPEC
---
Yao's statement came as the U.S. on Thursday warned Islamabad against China's ambitious China Pakistan Economic Corridor (CPEC) project, claiming that it would push the country deeper into an already stifling debt burden, foster corruption and repatriate jobs and profits to China.
The top U.S. diplomat for South Asia said the CPEC would profit only Beijing, adding that the United States offered a better model.
In a speech, described as "unusually specific" by the international media, the top U.S. diplomat for South Asia claimed that the multi-billion-dollar project would take a toll on Pakistan's economy at the time of repayments and dividend in the coming years.
"CPEC's most expensive single project is upgrading the railway from Karachi to Peshawar. When the project was initially announced, the price was set at $8.2 billion," she said.
"In October of 2018, Pakistan's railways minister announced that they had negotiated the price down to $6.2 billion, a saving of two billion. And he explained Pakistan is a poor country. We cannot afford this huge burden of these loans."
"But recent media reports claim the price is now risen to $9 billion […] So, why doesn't the Pakistani public know the price for CPEC's most expensive project or how it's being determined?"
She urged Islamabad to examine "the burdens that are falling on the new government to manage with now an estimated $15 billion debt to the Chinese government and $6.7 billion in Chinese commercial debt".
Ms Wells emphasised the need for Pakistan to know that China was providing loans, not grants, as the United States.
"It's clear or needs to be clear that CPEC is not about aid. This is almost always the form of loans or other forms of financing, often non-concessional with sovereign guarantees or guaranteed profits for Chinese state-own enterprises that are repatriated to China," she said.
"Now, together with non-CPEC Chinese debts payments, China is going to take a growing toll on the Pakistan economy, especially when the bulk of payment starts to come due in the next four to six years."
Ms Wells warned that even if loan payments were deferred, "they are going to hang over Pakistan's economic development potential, hamstringing Prime Minister (Imran) Khan's reform agenda."
"CPEC relies primarily on Chinese workers and supplies, even amid rising unemployment in Pakistan," she said.
"There is a different model," she said. "Worldwide we see that US companies bring more than just capital; they bring values, processes and expertise that build the capacities of local economies."
Apparently, her speech is aimed towards taking a major offensive that Washington has recently launched against Beijing's Belt and Road Initiative, a signature project of Chinese President Xi Jinping, which aims to build ports, highways and railways around the world.
However, Yao dismissed the Washington's warning to Islamabad over Beijing's giant infrastructure push which was heralded as a game-changer by both Asian countries.