Last Updated On 29 April,2019 01:20 pm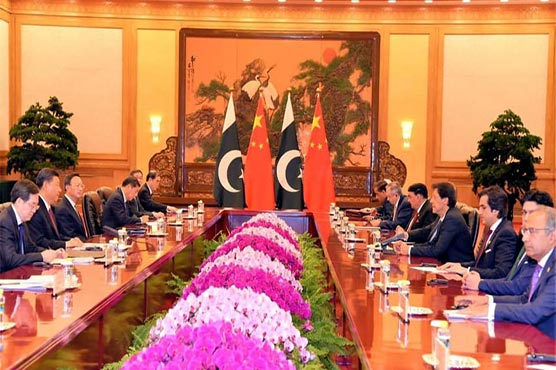 PM Khan held a bilateral meeting with Chinese Premier Li Keqiang at the conclusion of 2nd BRI, China
BEIJING (Dunya News) – Prime Minister (PM) Imran Khan on Sunday witnessed the signing ceremony of the second phase of the Pakistan-China Free Trade Agreement (FTA) during a bilateral meeting with Chinese Premier Li Keqiang at the conclusion of the second Belt and Road Initiative (BRI) Forum in Beijing.
The list of memorandum of understandings (MoUs) and agreements, signed and exchanged on the occasion is as follows:
– Second Phase of China Pakistan Free Trade Agreement (FTA)
– Declaration for Completion of Preliminary Design of Phase-I for Up-gradation of ML-1 and Establishment of Havelian Dry Port under CPEC
MoU on cooperation in the field of Marine Sciences between the China Geological Survey (CGS), Ministry of Natural Resources of China, the Institute of Oceanography, Ministry of Science and Technology:
– MoU between CIDCA and Ministry of Planning, Development and Reform on Implementation of the Projects under JWG of CPEC on Socio-Economic Development
– China-Pakistan Economic and Technical Cooperation Agreement
– Rashakai SEZ Joint Venture and License Agreement between KPEZMDC and CRBC.
The Pakistani premier is on his second official visit to China since assuming office in August last year. He arrived in Beijing on Thursday night on a four-day tour to attend the second Belt and Road Forum, on the invitation of the Chinese president.
He also met International Monetary Fund (IMF) Director Christine Lagarde on Friday, where the two sides agreed on the importance of the IMF programme and to work towards an agreement for which an IMF delegation would visit Islamabad on April 29.
---
PM Imran Khan meets Chinese Premier Li Keqiang
---
PM Khan held a bilateral meeting with Chinese Premier Li Keqiang at the conclusion of the second Belt and Road Initiative (BRI) Forum in Beijing. The two premiers were accompanied by ministers and senior officials.
Both leaders reaffirmed the time-tested and strong friendship between Pakistan and China and exchanged views on the myriad facets of bilateral engagement.
The premier extended felicitations to the Chinese leadership on the successful holding of the BRI Forum. Noting the depth and breadth of the BRI, the premier said it was of immense significance for the world in terms of connectivity and shared prosperity.
The two sides exchanged views on bilateral collaboration in the context of CPEC and prospects of further deepening economic linkages.
The PM underscored the importance of CPEC for Pakistan's economy and noted with satisfaction its expansion into new areas of development, including industrial development, livelihood projects, social uplift, and agriculture in line with the priorities of government.
He expressed hope that Chinese investment in Specialised Economic Zones (SEZ) would expand Pakistan's industrial base and assist in diversifying its export basket.
Underlining the steady growth of bilateral cooperation since the Prime Minister's last visit to China in November 2018, Premier Li Keqiang expressed satisfaction at the positive momentum of CPEC projects.
He expressed hoped that the conclusion of the second phase of China-Pakistan FTA would give further boost to trade and economic relations between the two countries. The two sides agreed to further deepen the political, security, economic, education, science and technology, cultural, and people-to-people relations.
It was agreed to maintain the existing momentum of high-level exchanges between the two countries.
The two leaders also exchanged views on regional issues including peace efforts in Afghanistan and peace and stability in South Asia. They also agreed to closely coordinate in their endeavours.
---
PM Imran Khan meets Chineses President Xi Jinping
---
PM Khan held a meeting with President Xi Jinping in Beijing on Sunday. The two leaders were accompanied by ministers and senior-level delegations.
Reaffirming 'All-Weather Strategic Cooperative Partnership' between Pakistan and China, the two leaders exchanged views on the entire gamut of bilateral relations in a warm and cordial atmosphere.
They affirmed the resolve to further strengthen their strategic cooperative partnership in all fields including political, security, economic and trade, and people-to-people exchanges.
PM Khan thanked President Xi for the warm and gracious welcome accorded to him in China and for China's steadfast support to Pakistan on all issues. He also reaffirmed Pakistan's support to China on all issues of its core interest.
He congratulated him on the successful convening of the second BRI Forum which is a practical manifestation of his far-reaching vision, and highlighted its significance as an important international platform for connectivity and sharing of experience among the BRI participating countries.
Reaffirming Pakistan's unflinching commitment to China-Pakistan Economic Corridor, the PM highlighted CPEC's next phase and its extension into new areas of agriculture, industrial development, and socio-economic uplift with livelihood projects.
President Jinping reiterated China's unwavering support to Pakistan's sovereignty and territorial integrity and appreciated the government's agenda for socio-economic development and people-centered progress. He affirmed that China-Pakistan ties would continue to acquire greater strength and deepen practical cooperation in the time to come.
The two sides also exchanged views on the regional situation, including in Afghanistan and South Asia. President Xi further expressed China's appreciation for Pakistan's sustained and successful efforts in the fight against terrorism and to create a peaceful neighborhood.
Both sides expressed satisfaction over the close cooperation between the two countries at multilateral fora and resolved to further deepen communication and coordination at all levels. They also agreed to keep the momentum of high-level exchanges between the two countries.